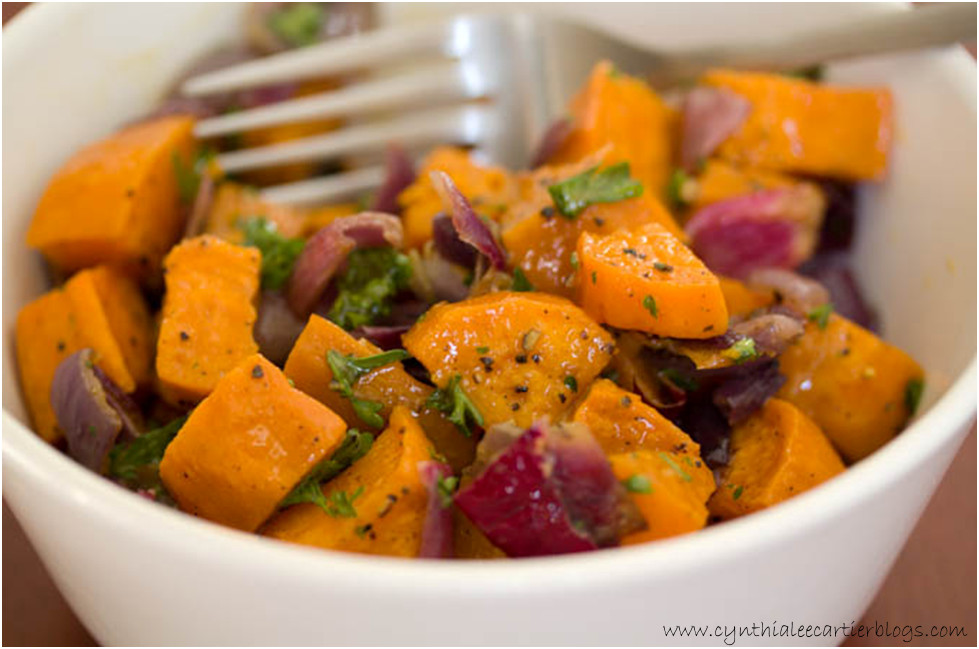 [donotprint]Sweet Potato Recipes — Roasted Sweet Potato Salad
This recipe for Roasted Sweet Potato Salad makes a pretty dish that's a perfect side for dinner, a light lunch with a salad or a packed lunch or picnic addition. It can be served warm or cold, made ahead or served immediately.
Roasted Sweet Potato Salad [/donotprint]
Serves: 2-4
Ingredients:
2 medium sweet potatoes, peeled and cubed
1 medium red onion, cut into small pieces
1 Tbs. extra-virgin olive oil
1/4 tsp. sea salt
1/8 tsp. ground pepper
Directions:
Preheat oven to 400 degrees.
Toss potatoes and onions in a bowl with olive oil, salt and pepper, then spread them out on a parchment-lined baking sheet and roast at 400 degrees for 30 minutes, until fork tender.
While roasting potatoes and onions, prepare dressing:
Dressing Ingredients:
2 Tbs. olive oil
2 tsp. dijon mustard
1 tsp. agave syrup (optional)
1/4 tsp salt
1/4 tsp. pepper
2 Tbs. chopped parsley
Add all dressing ingredients to a medium sized bowl and whisk to combine.
Once potatoes are roasted, you can toss the hot potatoes with the dressing and serve immediately, or let them cool and toss the potatoes with the dressing, store and then serve cold.