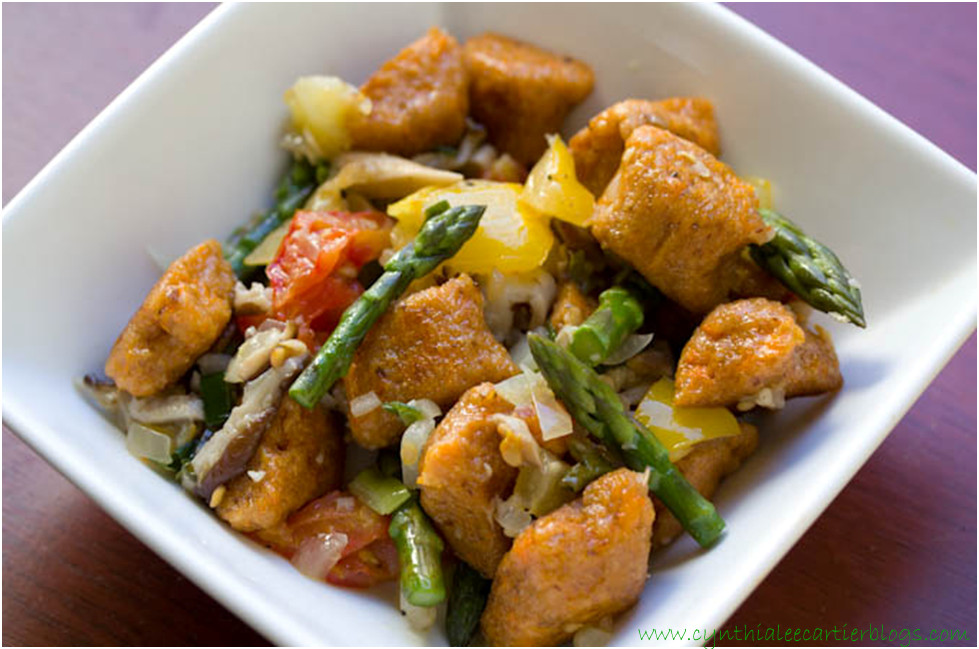 [donotprint]Sweet Potato Recipes —
Gnocchi really isn't difficult to make, and this recipe for Crispy Sweet Potato Gnocchi makes a delicious nouveau Italian dish perfect for lunch or dinner that will wow whoever gets to eat it.  It's best eaten fresh, but if you do have some leftover, store the gnocchi and the veggies separately and reheat as instructed in the recipe below.
Crispy Sweet Potato Gnocchi[/donotprint]
Servings: 4-6
Gnocchi Ingredients:
2 medium sweet potatoes
1/4 teaspoon salt
1 Tbs. ground flax or flax meal
3 Tbs. water
1 cup of whole wheat flour
Veggies:
1 bunch asparagus, cut into 2" pieces
¼ cup extra virgin olive oil
½ medium yellow onion, finely chopped
4 green onions, chopped
4 cloves garlic, crushed
1 cup Shitake mushrooms, sliced
2 medium tomatoes, diced (one red and one yellow if you can get them)
½ tsp. sea salt
1/8 tsp. ground pepper
Oil for Crisping Gnocchi:
2 Tbs. extra virgin olive oil
Make gnocchi:
Preheat oven to 400 degrees.
Bake two medium sweet potatoes at 400 for 1 hour, let cool.
Fill a large pot of water, 3/4 full. Add 2 teaspoons of salt. Set pot on high heat to boil.
Peel and mash sweet potatoes in a bowl with sea salt. Combine flax and 3 tablespoons water, mix well. Gently incorporate flax mixture into sweet potatoes. Add flour 1/4 cup at a time, until just mixed. Do not overwork.
Dust a work surface with flour and divide dough into 6 pieces. Roll each piece into ropes that are 1″ in diameter. Cut ropes into 1/2″ pieces. Drop gnocchi pieces into boiling water, about a dozen at a time for approx. 2 minutes, until they float. Remove gnocchi from water with a slotted spoon to a bowl and toss with a small amount of olive oil to keep them from sticking together while preparing veggies.
Cook Veggies:
Steam asparagus for 5 minutes, just until tender. Transfer to a bowl so asparagus doesn't keep cooking.
Heat olive oil in a large skillet. Add yellow and green onions and garlic. Saute for 3 minutes. Add mushrooms and tomatoes and saute for an additional 2 minutes. Turn off heat and cover to keep warm.
Crisp the Gnocchi:
Heat the 2 tablespoons of olive oil for crisping gnocchi over medium heat. Test oil temperature by setting a piece of gnocchi in the pan – oil should sizzle. Crisp gnocchi until all sides are browned. Remove to paper towel.
Assemble Dishes:
Divide gnocchi between serving dishes and top with a serving of veggies. Do not mix crisped gnocchi with veggies until serving.
Leftovers:
Store any leftover gnocchi separately from the vegetables. In order for the gnocchi to be crisp when reheated, it's best to heat leftover gnocchi in the oven or a toaster oven at about 350 degrees for 10-15 minutes, then toss with heated veggies.