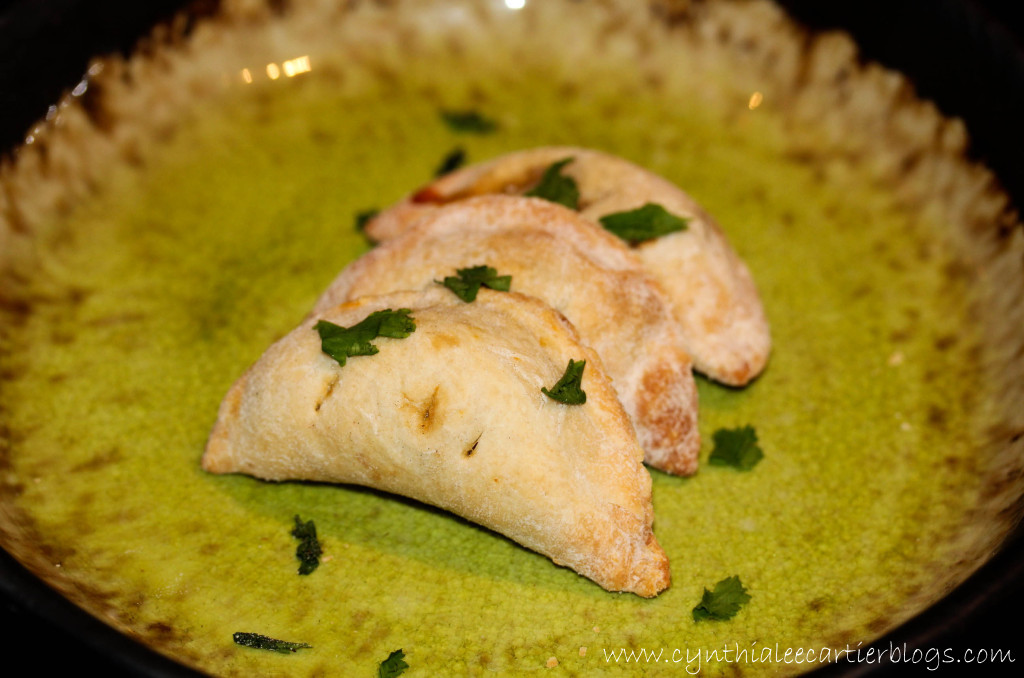 Sweet Potato Recipes — Spicy Vegetarian Empanadas
The Dough – Ingredients:
2 cups all-purpose flour
3/4 teaspoon sea salt
1/3 cup canola oil
1/4 cup cold water
1 Tablespoon cider vinegar
1 large egg, lightly beaten
The Filling – Ingredients:
1 poblano chile
1/2 Tablespoon ground cumin
1 cup mashed cooked sweet potatoes (roast at 400° for 1 hour)
1 cup canned black beans, rinsed and drained
1 bunch (5-7 onions) chopped green onions
3 Tablespoons chopped fresh cilantro
1 teaspoon cayenne powder
1/2 teaspoon sea salt
egg substitute for 1 egg: 1 tablespoon of ground flax seed (measure after grinding) with 3 tablespoons of water. Stir well, and place in the fridge to set for 15 minutes. After 15 minutes, the result should be a sticky egg-like substitute.

Preparation
1. Lightly spoon flour into dry measuring cups, and level with a knife. Combine flour and salt in a large bowl, stir to mix evenly. Combine oil, water, vinegar, and one egg in a medium bowl. Gradually add wet mixture to flour mixture. Stir just until moistened. Knead lightly until dough can be formed into a ball. Wrap tightly in plastic and chill for 1 hour.
2. Preheat broiler.
3. Place whole poblano chile on a foil-lined baking sheet; broil for 8 minutes or until blackened, turning after 5 minutes. Place in a paper bag; close tightly. Let stand for 15 minutes, then peel; cut in half lengthwise. Discard seeds and membranes. Finely chop and set aside.
4. Preheat oven to 400°.
5. Combine cumin, roasted and chopped poblano chile, sweet potatoes, black beans, green onions, cilantro, cayenne and 1/2 teaspoon salt in a large bowl; mash with a fork until almost smooth.
6. Roll dough out on a floured surface and then using a glass or biscuit cutter cut 5-inch circles. Working with 1 portion at a time (cover remaining circles to keep from drying), spoon 1-2 Tablespoons poblano mixture into center of each circle. Moisten the edges of dough circles with egg white; fold dough over filling and press edges together to seal. Place on a large baking sheet. Cut 3 diagonal slits across top of each Empanada, then brush tops with more egg white
Bake at 400° for 15-17 minutes, or until lightly browned.