Slipcovers: If I had to list my top five favorite decorating solutions, slipcovers would be #1 or #2 in the running with paint. When I was raising my sons, slipcovers prevented the wear and tear that three boys, plus their friends, could exact on a piece of furniture. I also used them to add a new look without having to reupholster a piece, and I used slipcovers on lampshades and tables.
Recently I did a slipcover project to cover bins in my little apartment to hide my stuff. The covers I made for the bins were quick and simple, but when I get some time, I want to make them from linen with layers of ruffles. My Upholstery and Slipcovers Pinterest board is full of slipcovers ideas. Yup, I love slipcovers!
Slipcovers fell out of fashion when manufacturing made new furniture less expensive than the custom slipcovers that were tailor-made to protect furniture. I hope they don't ever leave the scene again. I really like not worrying about my furniture when kids, pets, family and friends are around, and I like quick redos that don't break the bank.
Here's a Wikepedia entry about the history of slipcovers.
So once again, slipcovers come to the rescue… I hid a wooden headboard that's out of date and doesn't go with the rest of my stuff. It's not just upholstered headboards that can be given a new life and look with slipcovers.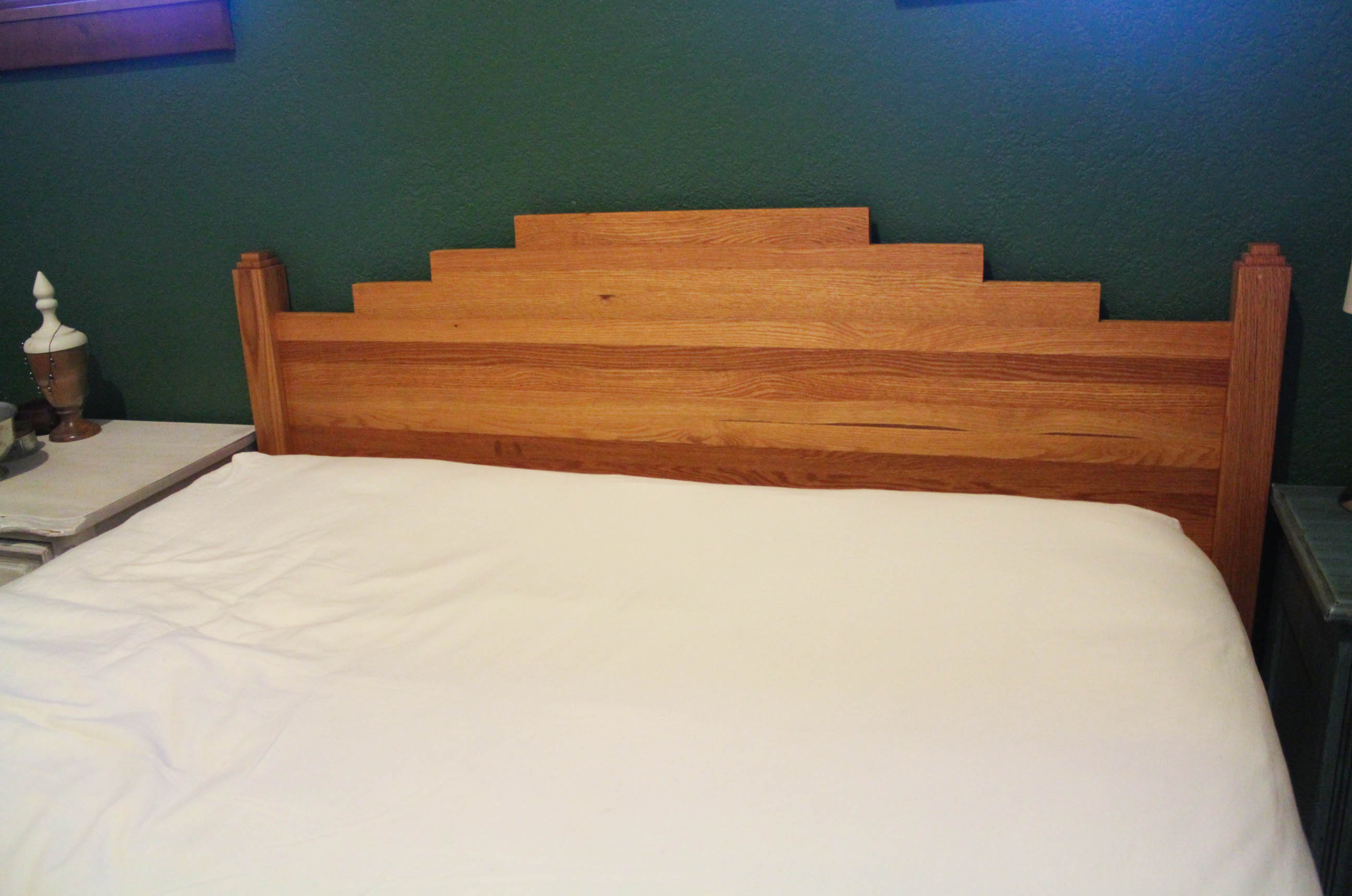 Here's the problem: I live in a partially furnished apartment, and the bed frame that came with the digs is an outdated southwestern style wooden headboard. Anything I don't want to keep in the apartment has to go into storage, so I decided to work with it.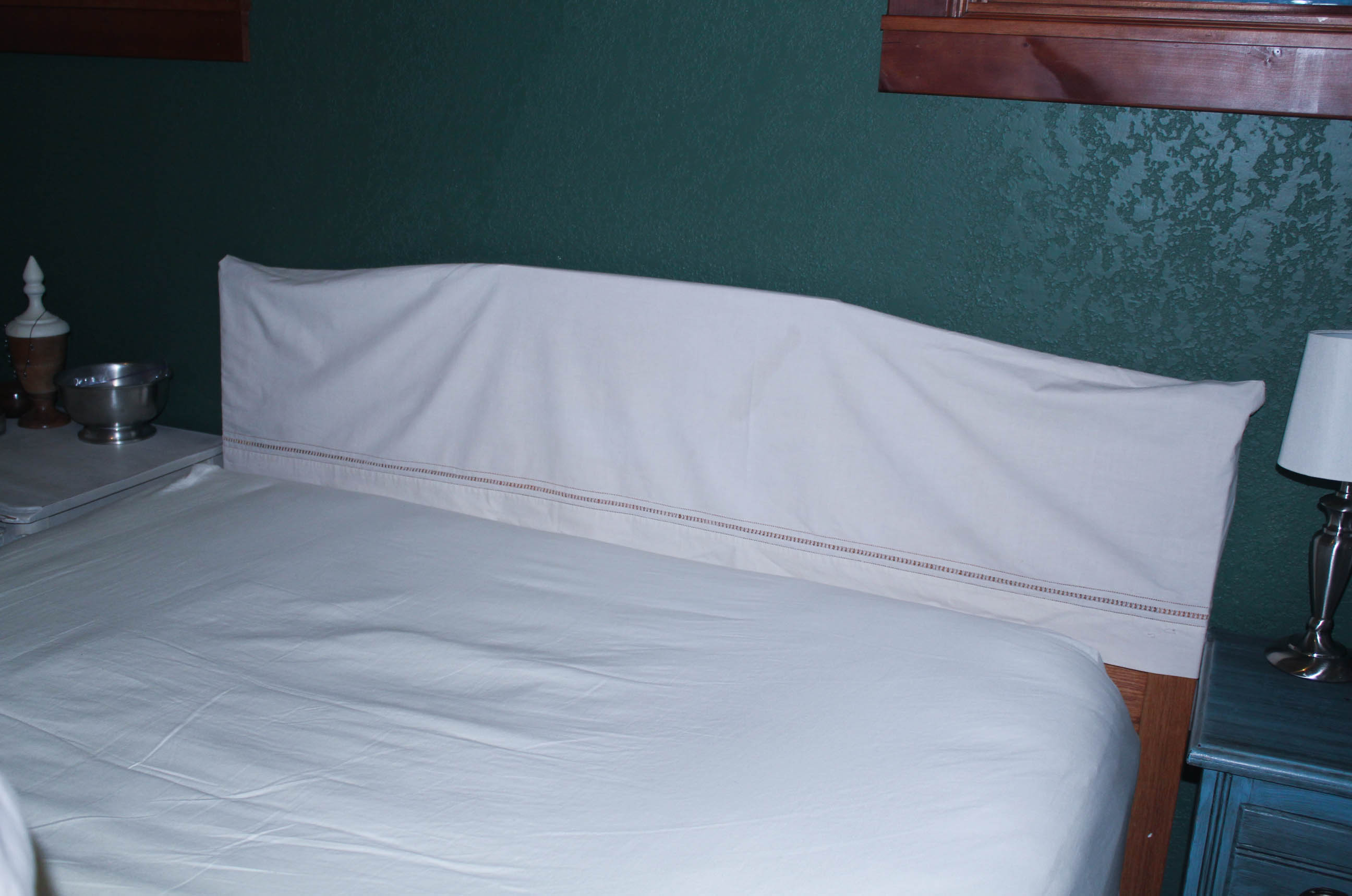 To make the slipcover, I used a vintage linen tablecloth that had some stains and holes in it. I'm sorry I didn't take pictures of how I folded the tablecloth to cut it — I'm just getting back into blogging about my projects and I just plain forgot. I'll add a pic in the near future.
I measured how far down I wanted the cover to hang on the headboard and then laid the tablecloth on the floor and folded the finished/tatted edge of the cloth over the same amount. With the finished edge on top of the fold, I cut the fabric underneath an inch longer (for a hem) than the finished edge of the cloth.
I hemmed what would be the back of the slipcover and then, with right sides together, stitched up the sides, turned it right-side-out and slipped it over the headboard. This project literally took me less than twenty minutes.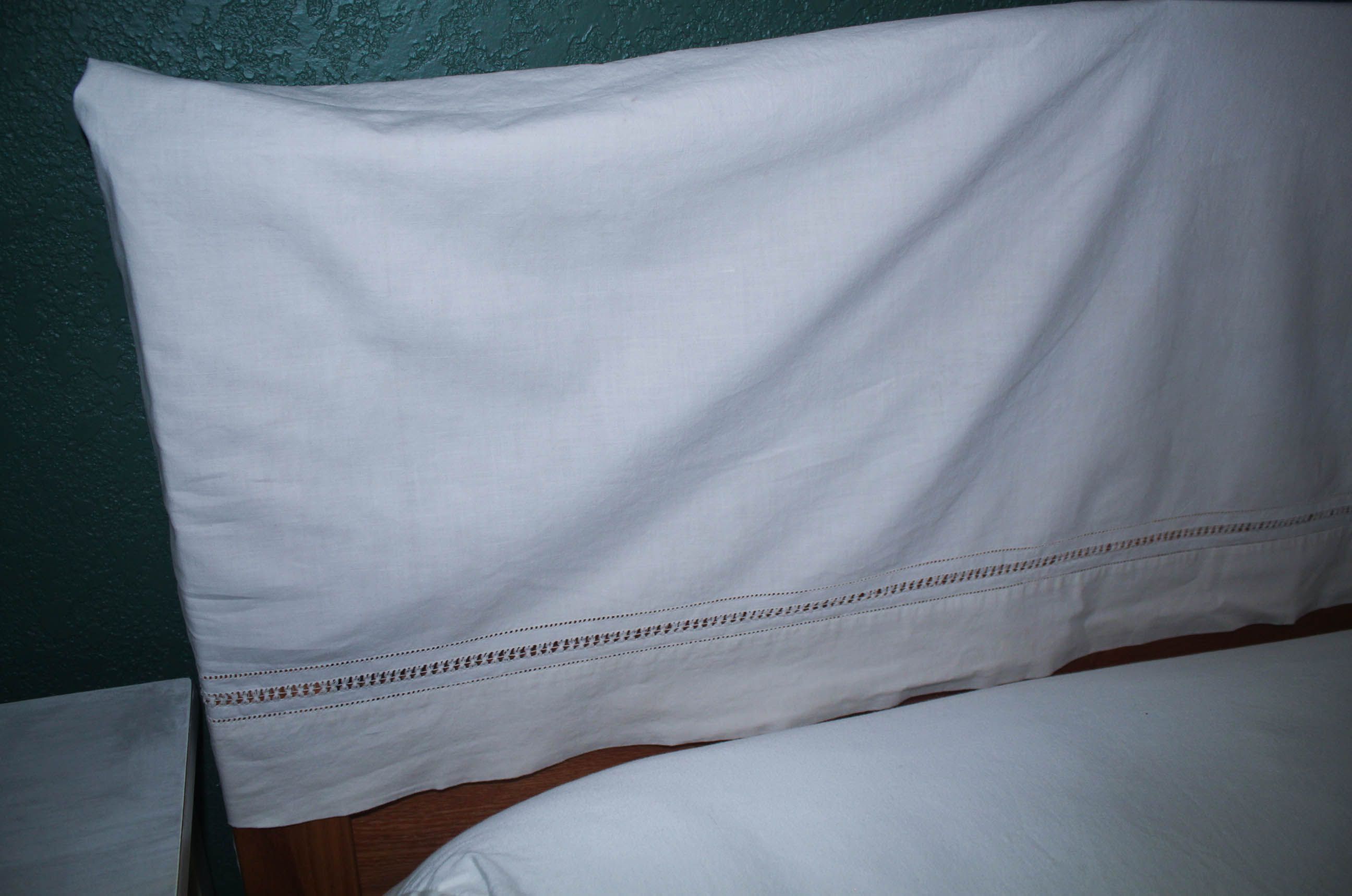 Here's a close-up of the finished/tatted edge. I could have made the cover a bit longer, but what wood isn't covered can't be seen when the bed is made.