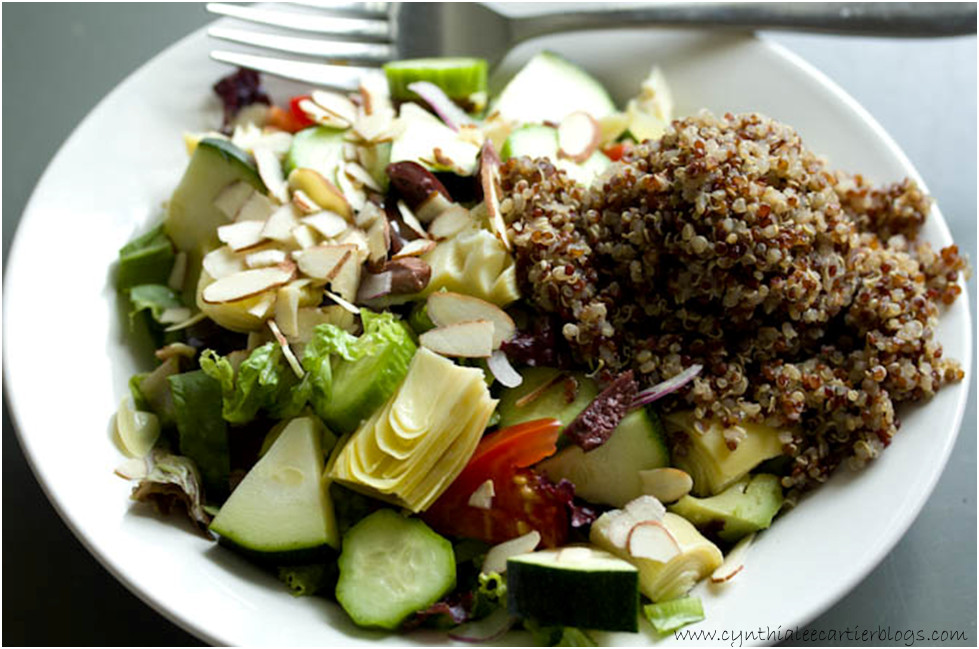 [donotprint]Quinoa Recipes — Quinoa Artichoke Heart Salad
The presentation of this Quinoa Artichoke Heart Salad is nicer when it's made in individual salad bowls or plates, so I've listed some of the ingredient quantities per salad, the other ingredients can be divided among the salad dishes right before serving. The quinoa can be made the day ahead and heated or served cold on top of the salad, and most of these ingredients can be prepared ahead for quick meals or entertaining. This is one of my favorite salads and favorite quinoa recipes.
Quinoa Artichoke Heart Salad[/donotprint]
Serves: 4-6
Ingredients:
1 cup quinoa (I used 1/2 cup red & 1/2 cup white)
2 cups Pacific Natural Mushroom Broth
12 oz. mixed salad greens, coarsely chopped (I used red leaf, butter crunch, green leaf and baby spinach)
1 small head romaine, coarsely chopped
1/4 cup basil, stack leaves, then roll them together, then chop
1 medium cucumber, chopped
1 medium zucchini, chopped
1 medium tomato, chopped
1 avocado, chopped
1/4 of a small red onion, very thinly sliced
1 marinated artichoke heart per salad, chopped into eighths
5 kalamata olives per salad, cut into quarters
1 tablespoon sliced almonds per salad
Directions:
Stir quinoa into the mushroom broth in a pan with a lid. Uncovered, bring to boil, then reduce heat to simmer, cover and cook for 20-30 minutes just until all liquid is absorbed (set a timer and watch the pot so the quinoa doesn't burn).
While quinoa is cooking prepare Red Wine Vinaigrette Recipe
To Serve: Toss mixed greens, romaine and basil. Divide tossed greens, zuchinni, cucumber, tomato, avocado and red onion between 4-6 serving dishes. Top each with 1 chopped marinated artichoke heart, 5 chopped kalamata olives and 1 tablespoon sliced almonds. When quinoa is ready, place one warm scoop on the edge of each salad (I like to use a big ice cream scoop). Drizzle with the Red Wine Vinaigrette dressing.