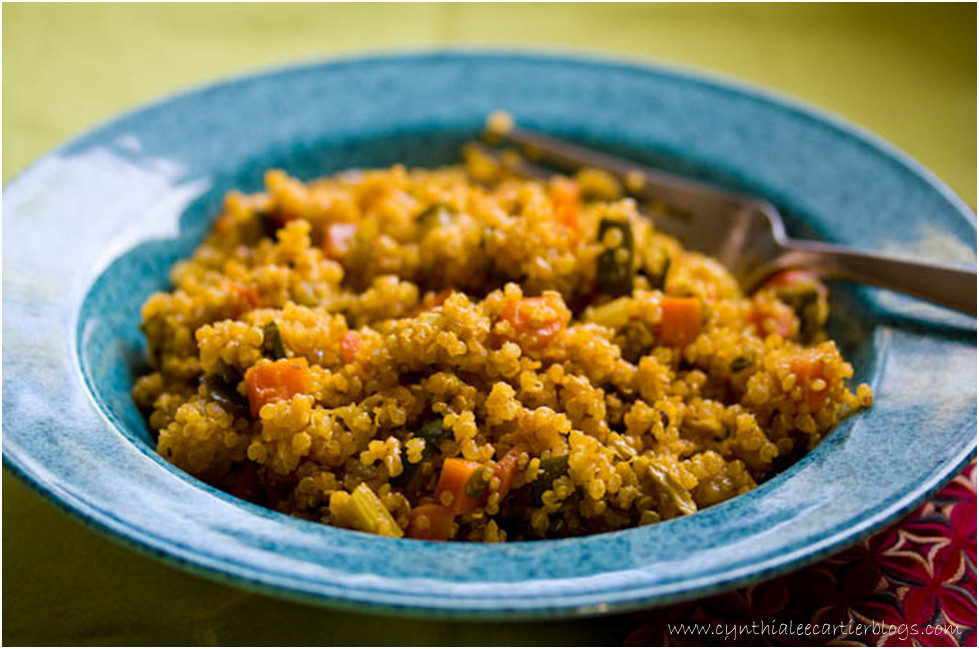 [donotprint]Quinoa Recipes — Carrot Quinoa
This is a slightly sweet and savory quinoa recipe that can be eaten cold or warm. Like most quinoa recipes, I'll make a meal out of it with a salad or steamed vegetable (I love broccoli with this). It's perfect for a picnic and the leftovers are great to pack for lunch the next day.
This recipe calls for carrot juice, which you can buy or make your own if you have a juicer. Sometimes I juice. When I buy, I usually purchase the organic carrot juice at Costco, the Kirkland brand. It comes in a pack of three bottles at a good price. Even though carrot juice isn't one of my favorites, I drink what I don't cook with – I know it's good for me, so I say 'Cheers!' and drink up. If you don't want that much carrot juice, natural food stores carry pure juice that will be a little pricier, but buying in bulk and letting it go to waste won't save you in the long run, so know yourself and shop wisely. Enjoy this recipe and vita-up in the process!
Carrot Quinoa [/donotprint]
Yield: 8-10 servings
Ingredients:
1 cup quinoa
1 tsp. olive oil
1 bunch green onions, chopped
1 cup yellow onions, chopped
½ cup celery, chopped
1 medium zucchini, chopped
4 carrots, chopped
2 cups carrot juice
1/2 tsp. salt
¼ tsp. pepper
¼ tsp. nutmeg
Directions:
Heat a large skillet over a medium flame and then add quinoa and toast, stirring constantly, until seeds turn light brown, about  3-5 minutes – do not overcook. Transfer to a bowl and set aside.
Heat olive oil in the large skillet. Add green and yellow onions, celery, zucchini and carrots. Cook for 5 minutes, until vegetables are just tender. Add carrot juice and bring to just boiling, then add toasted quinoa, salt, pepper and nutmeg. Cover and simmer until quinoa is tender and carrot juice is absorbed, about 25 to 30 minutes. Serve warm or cold.
For more about quinoa, checkout Quinoa, It's a Seed!.