Here's a Quick & Easy DIY Photo Wreath that's a fun way to display lots of photos. Once you've gathered your pics and materials, this project can be completed in a half an hour, including hanging. The picture of the finished project isn't that good, but I'll upload another one when I can, which will be a while because it's in Colorado and I'm in Washington right now.  Still, I have a few posts in the hopper that I wanted to get up, so here you go.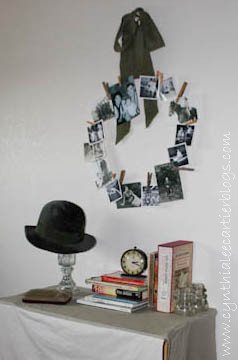 The materials are easy to find and are inexpensive.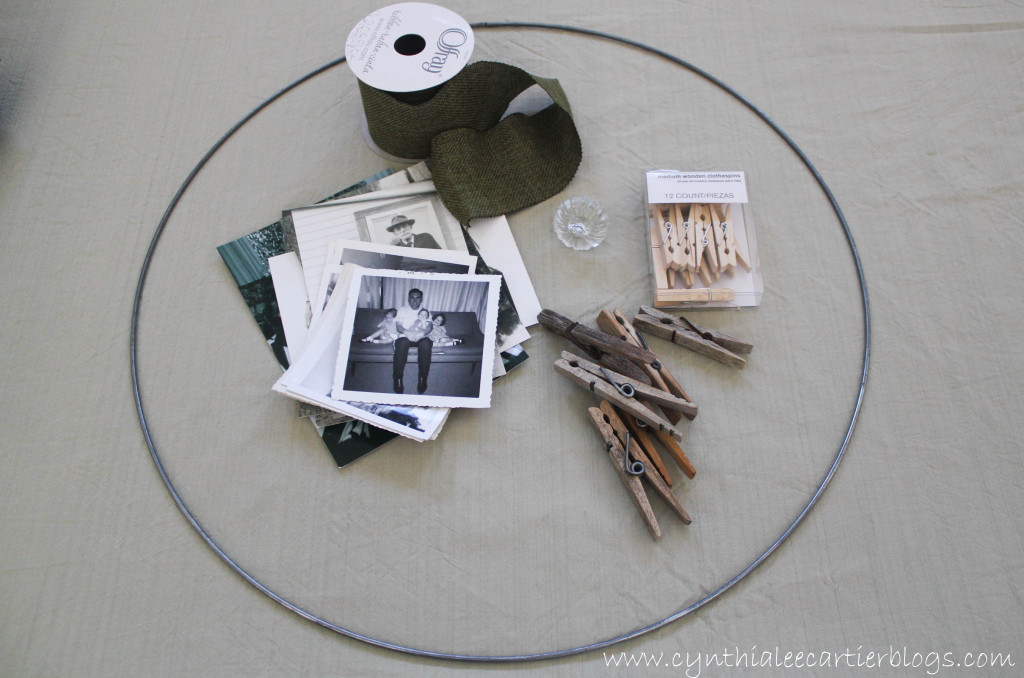 Materials to Gather:
The Wire Ring: The size is really up to you. The one I used here is 16″ in diameter. I clipped this wire ring from an old lampshade frame. You can do this by removing a ring from a lampshade with wire snips, but this one just snapped off. I've done this project before using a heavier gauge wire to just make a ring and wrap the ends around each other where the circle meets. The ring isn't going to show, so it doesn't have to be pretty, just make sure you get it as round as possible.
Clothes Pins or Other Clips: These are for clipping the photos to the wire ring. I had some old weathered clothes pins, which are what I wanted to use with my vintage photos, but I didn't have enough. So I soaked some new mini clothes pins in tea for a couple days, then let them dry out really well for another couple of days. You could speed the process up by putting them in a pillow case that you knot closed and place in a clothes dryer for an hour, or use an antiquing ink pad and a sponge to darken them. If you want to make a contemporary photo ring, brightly colored metal clips, even colorful paper clips would look great.
Knob or Hook for Hanging: The knob you choose will depend on the style of your wreath you're creating. Since I was using black and white photos, I went with a vintage dresser knob. For a contemporary wreath, I might use some kind of wall hook or a reproduction glass knob in a bright color.
The Ribbon: This is for hanging the photo wreath. I used the entire roll of green ribbon that I had, 3 yards. I could have used less, but I like the long tails, trailing from the bow.
Photographs: The number of photos depends on the size of the wire ring and the photos. I used 18 pics of different sizes for my 16" ring. I had about 25 to choose from.
Directions:
Loop the ribbon around the wire, leaving the ends untied and loose for now.
Starting at where the ribbon is looped over the ring, clip the photos around the ring until you're satisfied with the layout.
Mount the knob about 9" above where you want the top of the photo wreath to hang. Your wreath should be fairly light, so you shouldn't need to use a wall anchor to hang the knob, but I usually do use an anchor.
Tie the ribbon around the knob so that the wreath hangs at the desired height. Secure it with a knot or a bow.
And that's it… a quick and easy DIY project that displays a lot of photos and can be done in a jiffy.