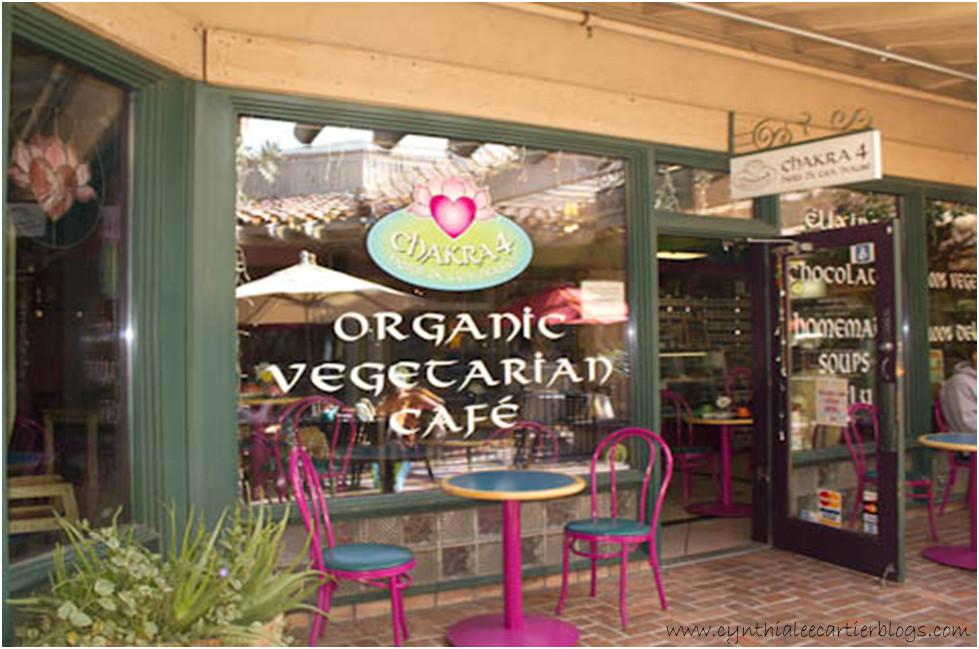 Phoenix Restaurants: (Remember… staff, locations, operating hours, menus and prices can change over time, so call ahead and I wish you good eatin').
Update: This recommendation was written in 2011, since then, the restaurant name has been changed to Sage Kitchen; it's still right next to their parent store that's now called Chakra 4 Herb co.
Recommendation written 2/2011.
I'm a big fan of the selection of healthy Phoenix restaurants; they're among my favorites anywhere. In the Town & Country Shopping Center, to the left of Trader Joe's, is a courtyard lined with alfresco cafe tables arranged outside a collection of quaint eateries. Tucked at the back of the courtyard is a truly special little haunt that uses fresh, organic ingredients: Sage Kitchen, a cafe with plenty of vegan dishes. The dishes that are not vegan can all be veganized: omit the cheese and substitute with the nut cheese or go cheeseless. The nut cheese is made on-site with cashews and it's very flavorful, but don't expect it to have the look or texture of any of the cheeses you're familiar with—it doesn't, but I liked it and would order it again. Raw almond milk is also made on-site.
If you're a tea drinker, there's an entire menu of interesting blends and elixirs. We were impressed with how the individual flavors in the teas were identifiable: a sign of freshness.
We started with The Fellowship: a selection of dips and hummus that are served with lavash and raw veggies—tasty and enough for a fairly large party or for one or two to enjoy and then take some home. We then tried the Moroccan Nomad Stew, and it was delicious: perfectly cooked and seasoned stewed vegetables served over a scrumptious quinoa pilaf. My favorite of the meal was the Basil Pesto Foccacia… Oh my! Crispy crust, loaded with veggies and served with a beautiful salad (the pesto was dairy free and had excellent flavor).
The entrees were $9 – $14, but take note, the desserts are not inexpensive, but for you, the reader, we had to try at least one. We shared a piece of vegan Chocolate Ganache Tart that was $9. It had a very good nut crust and we liked the chocolate filling, although it didn't have the smoothness you might expect from a ganache. It was made with not only chocolate, but also dates, nuts and other healthful ingredients, so it was a yummy dessert that was also rich in fiber and nutrients. We were told the desserts are so pricey because they're labor intensive and made with quality organic ingredients.
The atmosphere was inviting, the service was excellent and I appreciate their mission statement, goals and ingredient choices—you can read about these at the bottom of their menu posted on their site (link below). Also, they don't use soy products, which I avoid as much as possible, so unlike a lot of vegetarian or vegan restaurants, there wasn't anything on the menu that I didn't want to try. If you're looking for good Phoenix restaurants that offer plant-based choices, this place is a great option.
Note: Inside Chakra 4 Herb Co. is a shop where you can purchase herbs, elixirs, essential oils, teas and more.
Location: Sage Kitchen, 4733 N. 20th Street, Phoenix, AZ 85016 – (602) 283-1210