Mindy Kaling — "Is Everyone Hanging Out With Me? (And Other Concerns)"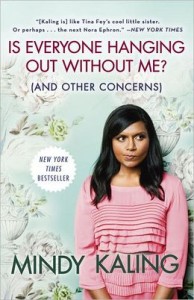 After reading, "Is Everyone Hanging Out Without Me? (And Other Concerns)," I've concluded Mindy Kaling would be a perfect role model for my teenage or twenty-something daughter, if I had one. While being terribly honest about her flaws, she manages to extol the benefits of being a good kid and student, and having a work ethic that she lovingly attributes to her parents' example… be still my mamma's heart. What parent doesn't dream of being affirmed in print?
It's truly an inspirational journey as Mindy writes about her upbringing, teenage angst, dating, and finding her way in one of the toughest male dominated businesses around. She did what she had to do in order to eventually do what she wanted to do. She lands a job and then holds her own as a staff writer, performer, and producer on the hit comedy "The Office" (kind of a big deal for a young woman in her thirties).
Whether you've heard of Mindy Kaling before or not… whether you're a youngin' or older like moi, this is a fun read. Her collection of essays kept me happily chuckling (yes, I chuckle) and turning pages with every moment of my available free time. Her voice jumps off the page and makes a body feel like she's talking directly to you… one of my favorite things to find in a writer.
I hope you enjoy it as much as I did 😀