Milk Paint Project
Up until now, I've never had a desk. A writer without a desk? It's true, I've been deskless for years. The kitchen table, sitting on the sofa or in bed, sometimes in my pajamas, is where I've always worked. But now I have a real desk that I can put stuff in and sit at and feel very writerly. I love it but I still write in bed at times, sometimes in my pajamas.
I found this desk at a Habitat thrift store and it was on its third mark down. It's big and heavy with nice detail, and has all kinds of storage. I gave it a quick sanding with an electric hand sander, and a cleaning, and then painted it with two thin coats of Snow White Old Fashioned Milk Paint, sanding in between. I didn't use any bonding so it chipped and crackled in spots, which is what I wanted. I sealed it with wax.
I've refinished a lot of furniture, but I actually like painted pieces more and more; still, I have a difficult time painting old wood pieces that are in good shape. This piece would have been beautiful refinished, if it didn't have the damage you'll see in the photos, which was all I needed to enthusiastically get out the paint brush.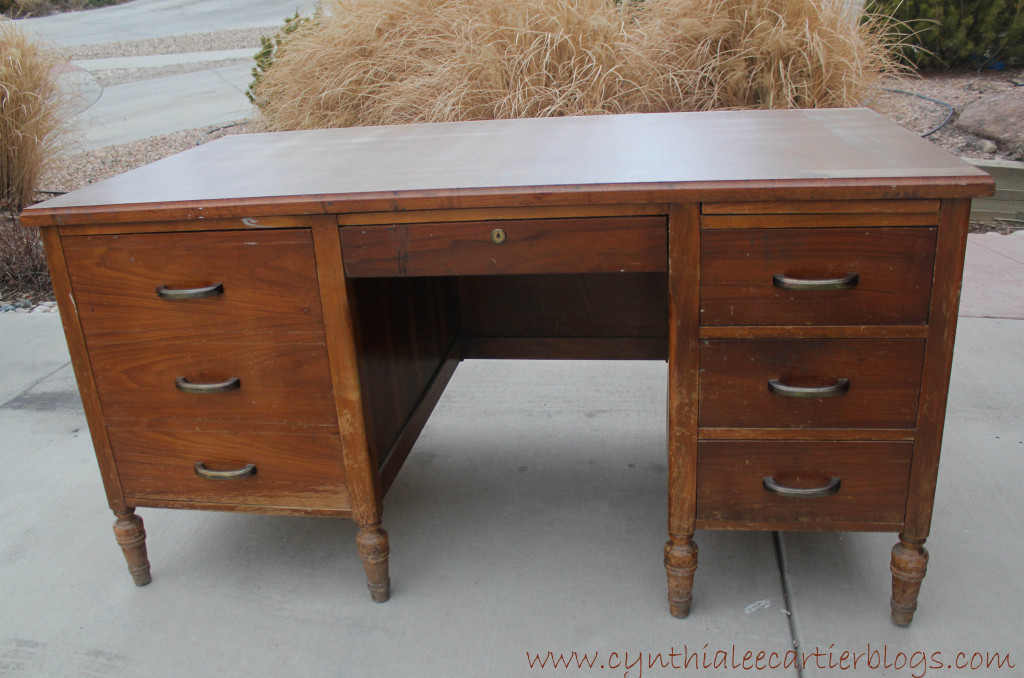 I love the legs and the size. I wanted a big work surface and this piece fits perfectly in a nook in my bedroom. It has a slide-out writing tray, a center drawer, three drawers on the right and on the left is a mock-drawer-looking panel that opens up to a cubby with a pull-out shelf.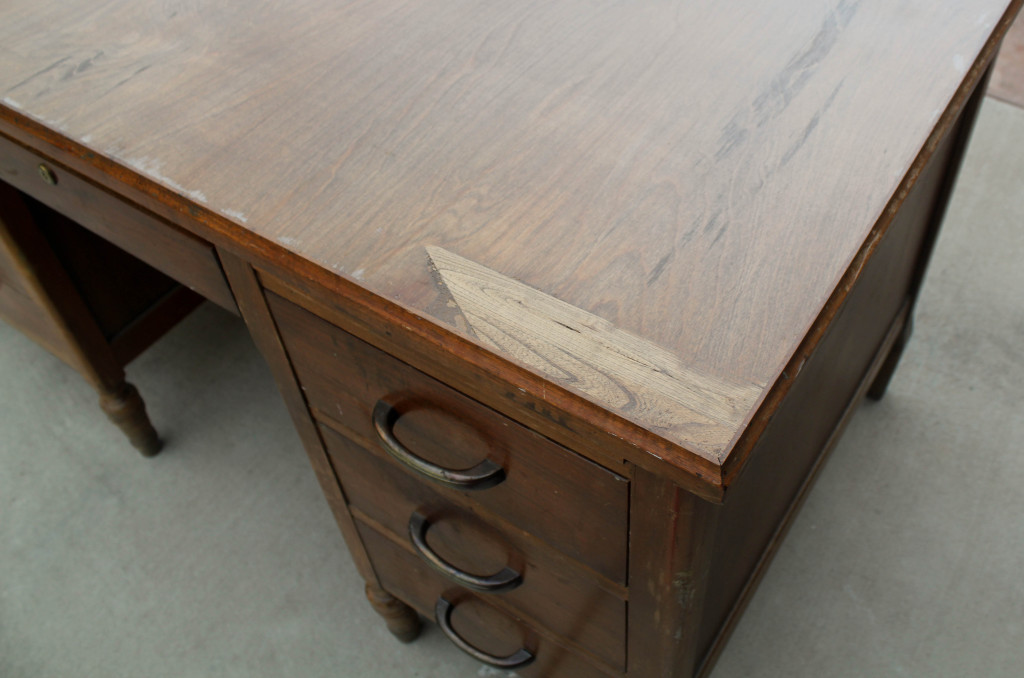 In addition to some pretty good nics and scratches, this is the repair that rendered the desk unfit for refinishing and ultimately unwanted and a bargain at $40.00.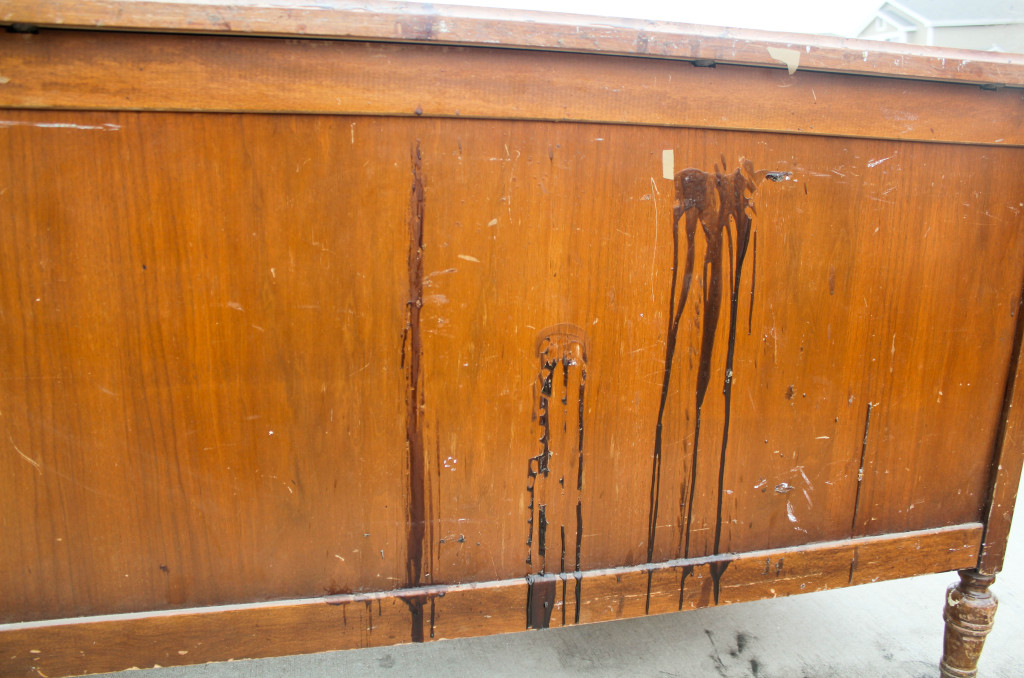 I'm not sure what this was. It looked like a mix of candied molasses and tar. It wouldn't sand off, so I had to scrape it off with a straight edged razor blade. Paint drips were here and there as well, apparently the desk was too heavy to move on painting day.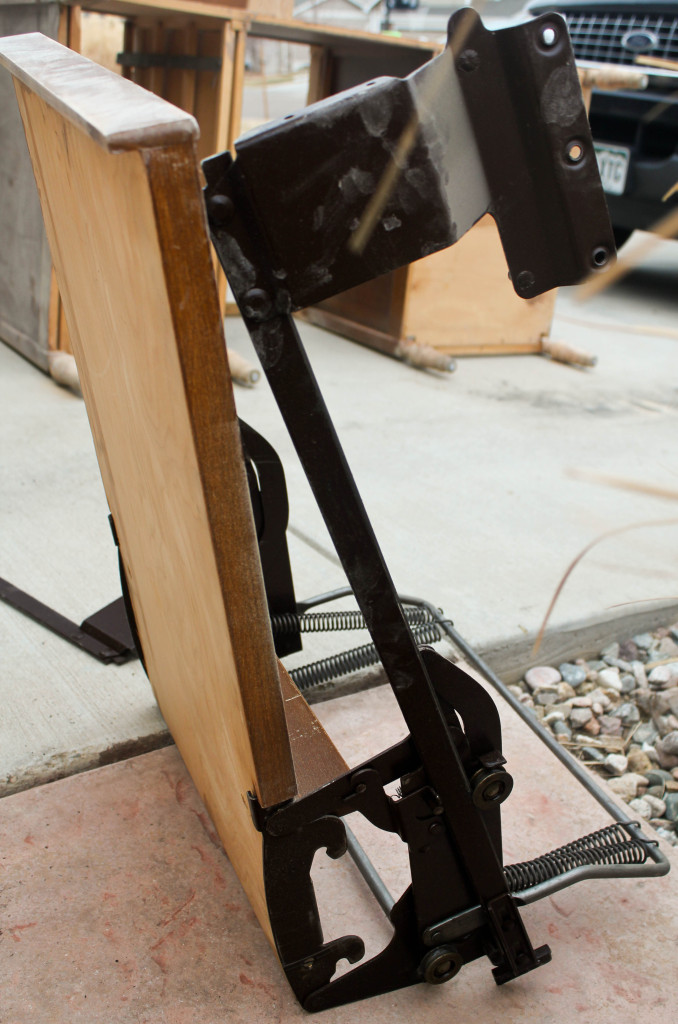 The biggest challenge was taking the desk apart… I thought. I didn't take pictures of the whole disassembly fiasco, but here's the culprit that started it all. Originally, I was planning to remove only this pull-out, then realized I couldn't get it out without removing the top, which is incredibly heavy. By that time I had a lot of the screws out to remove the pull-out, and it seemed putting them back in would be easier with the top off, so I kept going.
I felt like a mechanic with the upper half of my body inside the tight space to take out the screws, which I might add had to be removed with a hand screwdriver because the spaces were too tight for a drill. Eventually I got it apart and started happily sanding, completely oblivious to the fact that putting it back together was going to be the really tough part.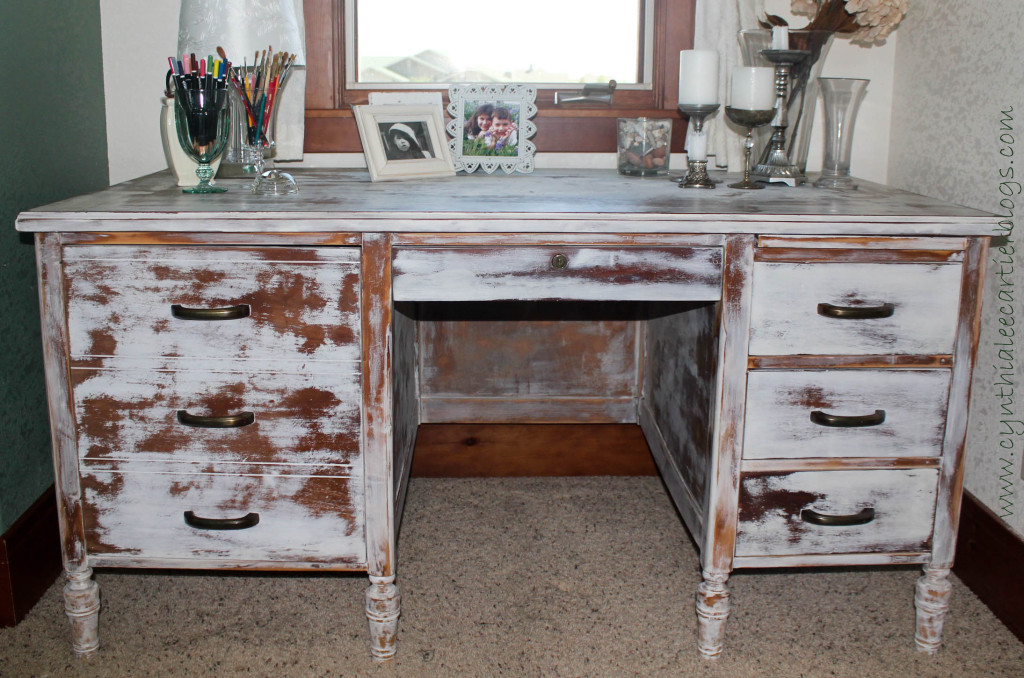 Here's the finished piece, living quite comfortably in the nook as if it was made for the space.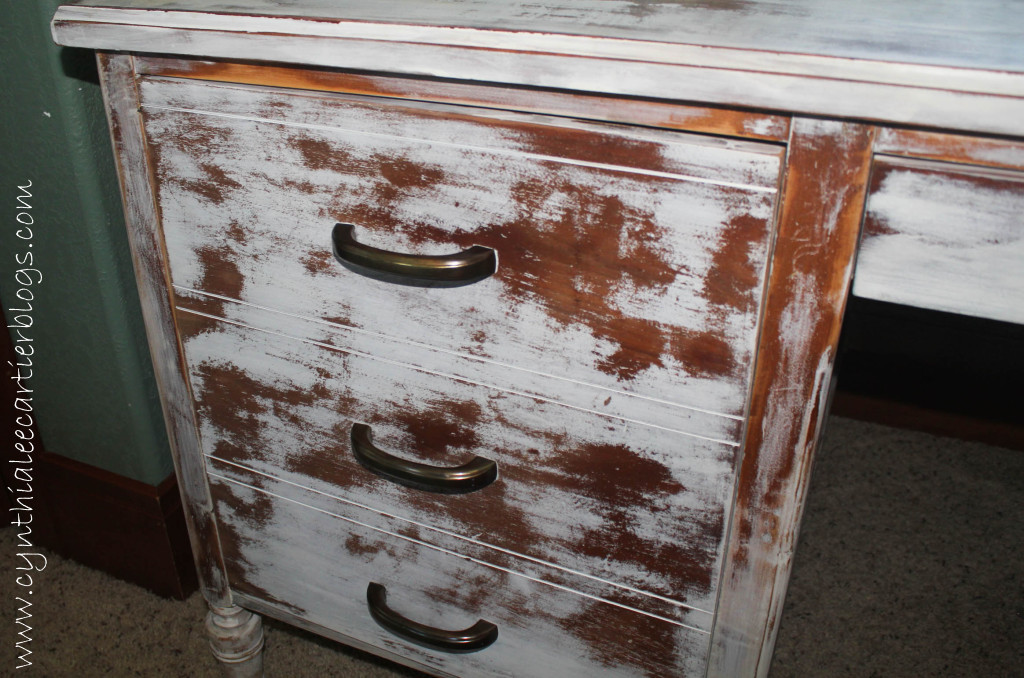 The grooves that create the mock-drawer-look really stand out after painting. I thought about using glass pulls, but would have had to re-drill and patch holes, so I kept the original brass hardware and I'm happy with the look.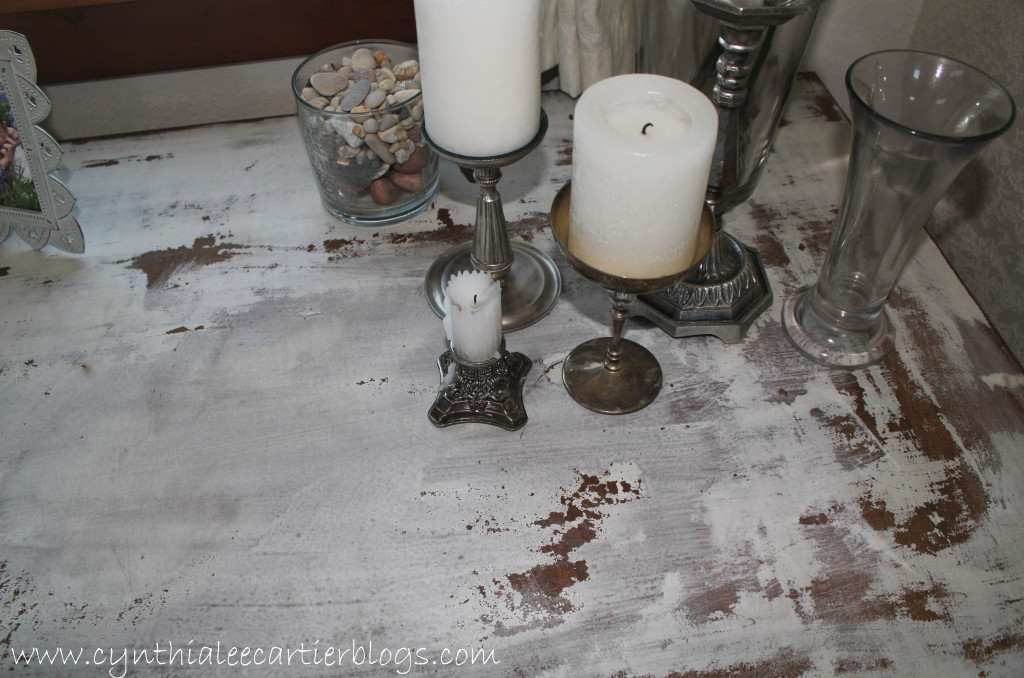 Here's a shot of the top. No perfection here and I love it.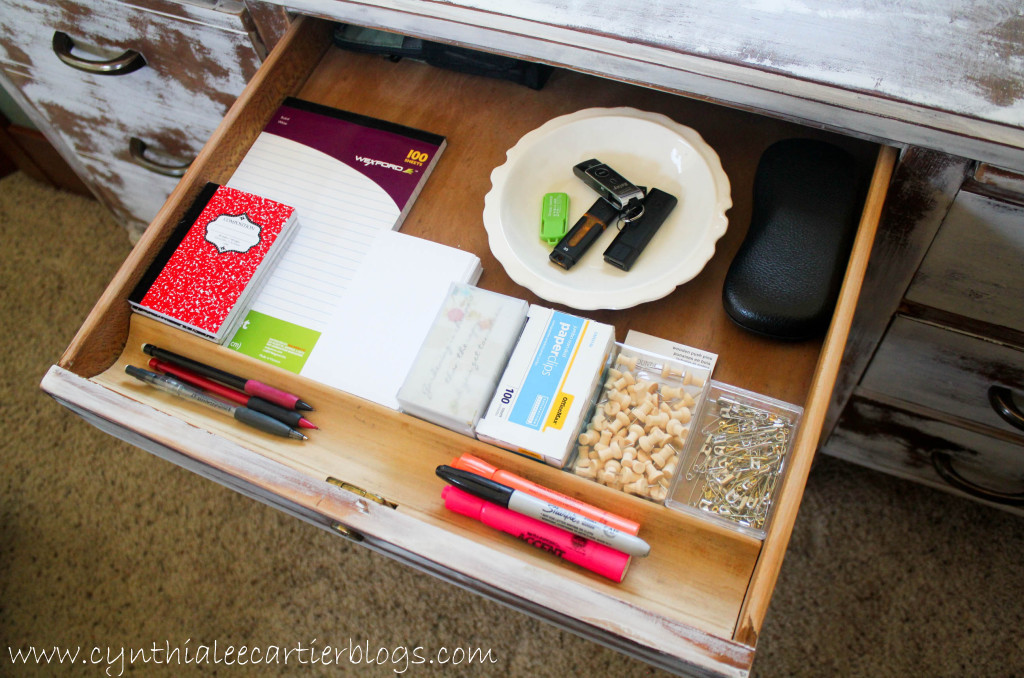 The drawer has a removable pencil holder. And no, it doesn't always look this neat and tidy.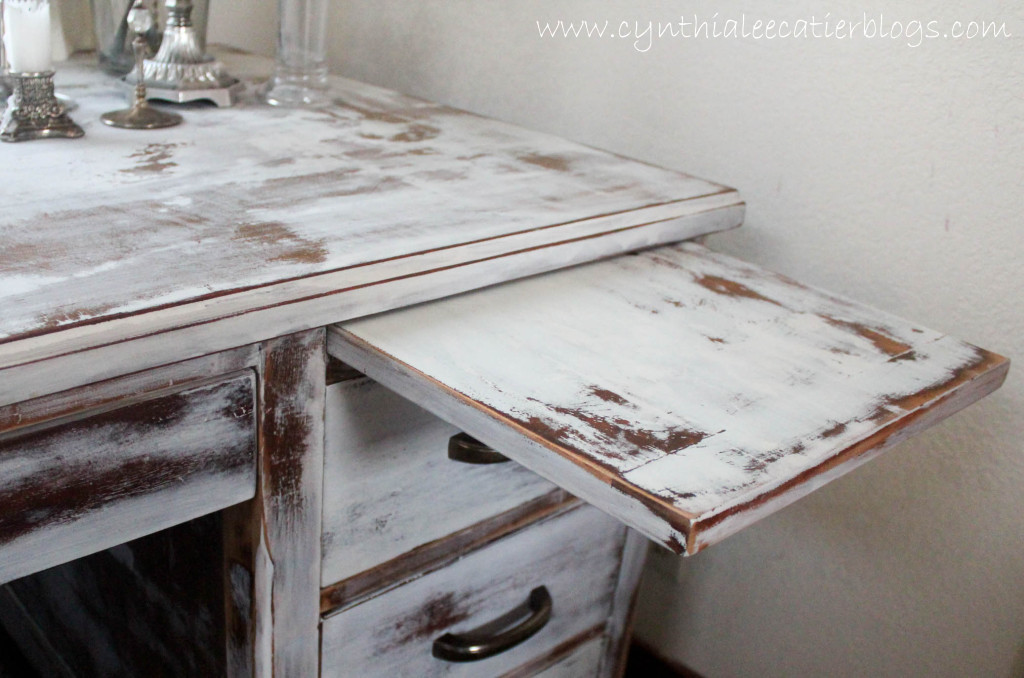 I love the slide-out writing tray. I not only write here, but also watercolor and work on jewelry at this desk. Whether it's my laptop, notes, books I'm using for research, sketches, or beads and findings, I can have a lot of stuff spread out in front of me and it helps to have more work surface. It also gives me room for pretty things that can stay on the desk, even when I'm working… and moving parts are always cool 🙂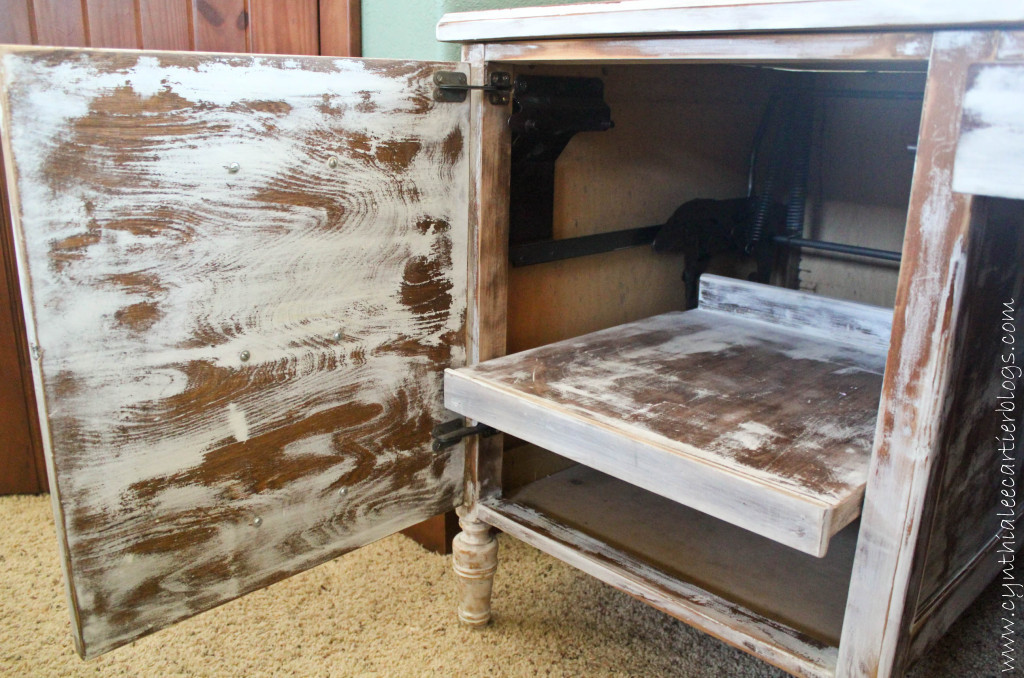 So this was the reason for all the contortion to get the desk apart and back together. It's quite a contraption with big heavy springs and multiple hinged joints. It was a pain to remove, but worth it. I love how it looks painted.
I found a really comfortable little rolling desk chair that fits right under the desk, but it's uuuggglyyyy! I'm going to slipcover it and then I'll let it have its day here too.