Milk Paint Project —

This is the restoration of a dresser that belongs to a friend who loves color, particularly blue, as you'll soon see. The wood on the piece has a nice grain and great lines but had damage in a few spots, so it was a prime candidate for painting. I hadn't ever painted an antique piece of furniture blue or any bold color like this and was apprehensive, but it wasn't my dresser, so blue it was.
Here's the project from start to finish. It took us less than a week to complete. We both love the finished piece and now I'm hooked; I can't wait to do another piece with a bold milk paint color, maybe bright lime green over an ultramarine blue base 🙂
Tools: razor blade cutter, spackle knife, palm sander, sandpaper, vacuum, cleaning rags, steel wool, cardboard box for holding the knobs while painting, sponge brushes, containers w/ lids for mixed paint, wire whisk for mixing paint
Materials: wood filler, Real Milk Paint (1 quart each Cobalt Blue & Ultramarine), Ultra Bond, Tung Oil
Here's what the dresser looked like after we had taken the mirror off and filled the damaged areas. Before the painting began, we also removed the knobs. I wish I had taken a picture of this, but I like to turn a cardboard box over and make holes in the bottom with a Phillips screwdriver and then attach the knobs to the box to paint them without having to hold them. That way they can dry without the paint getting marred.
We used a cutter (razor blade) to cut away some areas where the veneer was missing and/or cracked and raised. We cleaned the spots well, using a vacuum and then a damp cloth to remove all the dust. Once it was dry, we filled the spots with a plastic spackle knife and wood repair putty. It took two to four fills and sanding when dry to make sure all of the spots were completely filled, flat and smooth. One of the spots was a problem when we started painting… more on that happy accident in a bit.
We sanded and then cleaned the entire piece but not down to the bare wood, meaning absolutely no old finish, since we were mixing Real Milk Paint's Ultra Bond Adhesive Promoter in the base Cobalt Blue coat.
We found a blue dresser project on the Internet that was our inspiration. You can see it on Real Milk Paint's site on the customer gallery page (scroll down); it's one of the projects by Beth Heim of the blog Make Me Pretty Again. She said she used Real Milk Paint's Cobalt Blue for the base and Ultramarine for the top coat. It was a bit confusing at first, because the lighter blue looked like aqua to us, but we called the company and they confirmed that the lighter blue is what they call Cobalt. We ordered a quart of each color and had plenty for this project and for a small cabinet.
I've been using milk paint for many years, but I had never tried Real Milk Paint and I really liked it. The powder mixed up well, without a lot of lumps or foam, and didn't get lumpy or too thick once it was sitting for a while, even after a couple of days.
First coat of Cobalt
Second Coat of Cobalt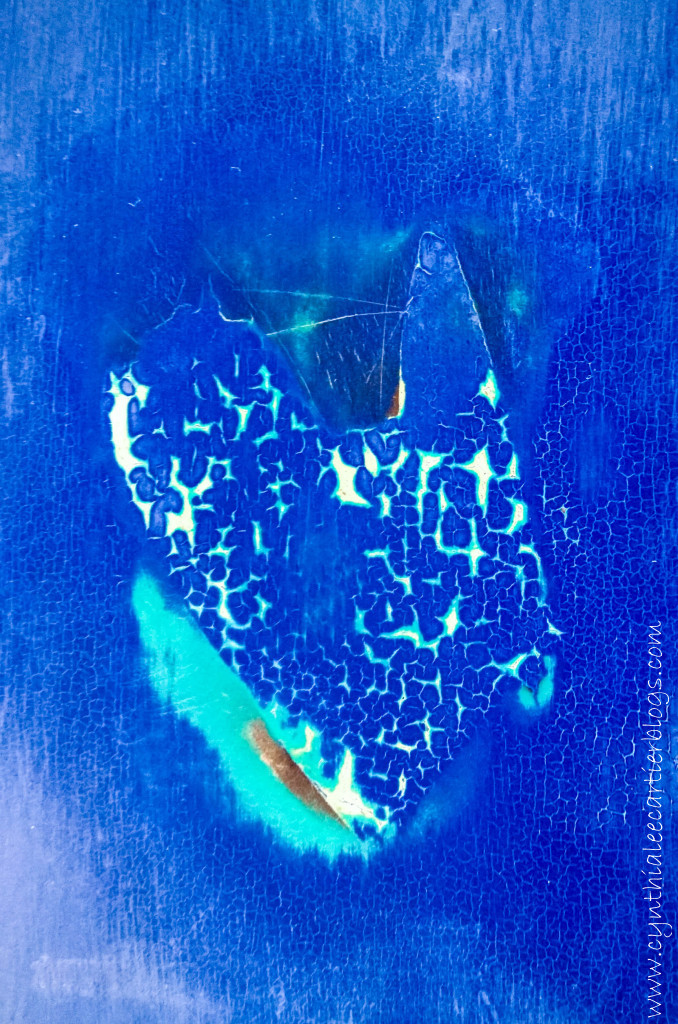 Okay, so here's the happy accident that happened when some of the paint crackled and we sanded it smooth for repainting. Crackling can be a great effect, but that's not what we were going for on this piece, which is why we added the Ultra Bond. I think what caused the crackling was that the wood fill hadn't dried enough on the biggest repair spot before we began painting, so by the time we finished the third coat, the paint started to come up.
The picture doesn't do this happy accident justice; the sanding smooth produced a very smooth, almost glass-like spot, that had such a cool effect and became the inspiration for some experimentation that we did on a small cabinet, which we did after this project. After repainting and sanding this spot, we did get it to look like the rest of the piece.
Anyone who has worked with milk paint knows that's it's unpredictable, but with patience and perseverance, problems can always be fixed by going back into areas that don't look like what was intended, and sometimes the unplanned effect is better than what was intended 🙂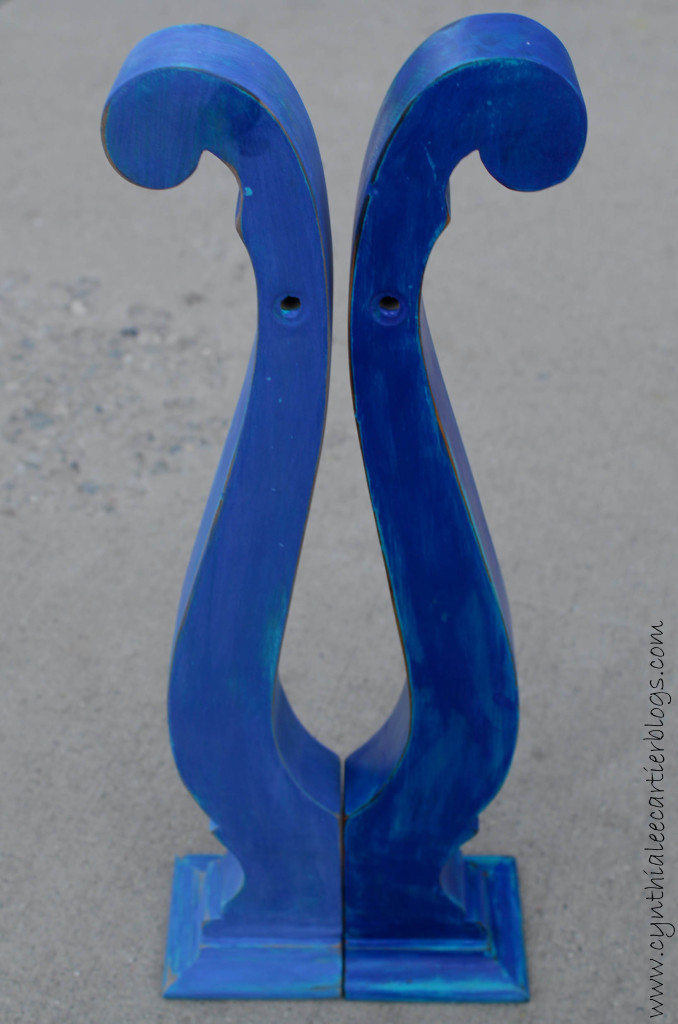 These are the mirror supports. Aren't the lines just great? The one on the left is before Tung Oil and the one on the right is after just one coat. Such a difference.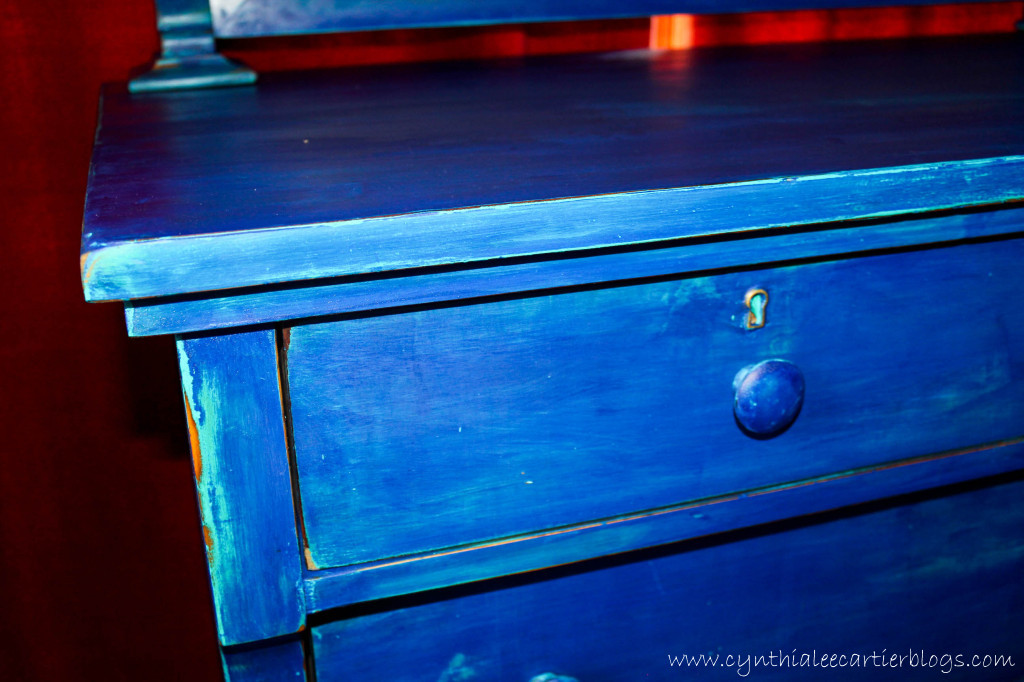 I like how the paint settled in the keyholes that weren't functional (no keys).
This is the final finish after two coats of Cobalt and two coats of Ultramarine, some distressing with a palm sander, and (I think) seven coats of tung oil. To decide how many coats of tung oil to apply to a piece, I usually go by what I want the final finish to look like and what the piece will be used for, ie. will it be exposed to water, handled a lot, etc.  Since this dresser may end up in my friend's cabin in a living area, I thought more coats than I would normally use on a dresser would be a good idea.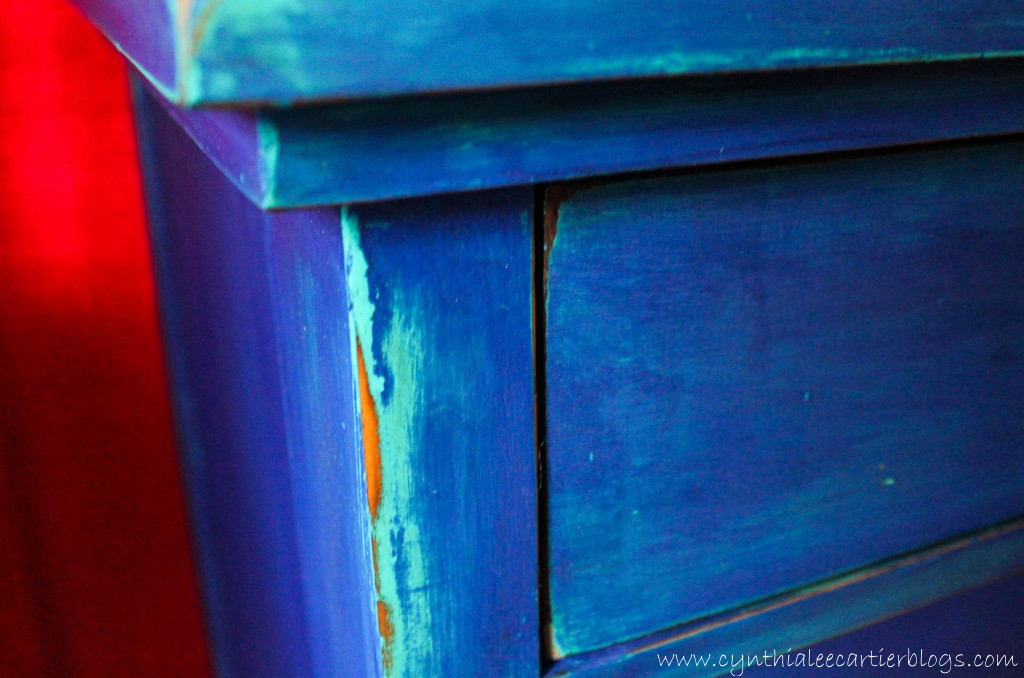 The look is very Sante Fe or in the right décor, kinda Mickey's Toontown 🙂
I love how the Cobalt and wood peek through in spots.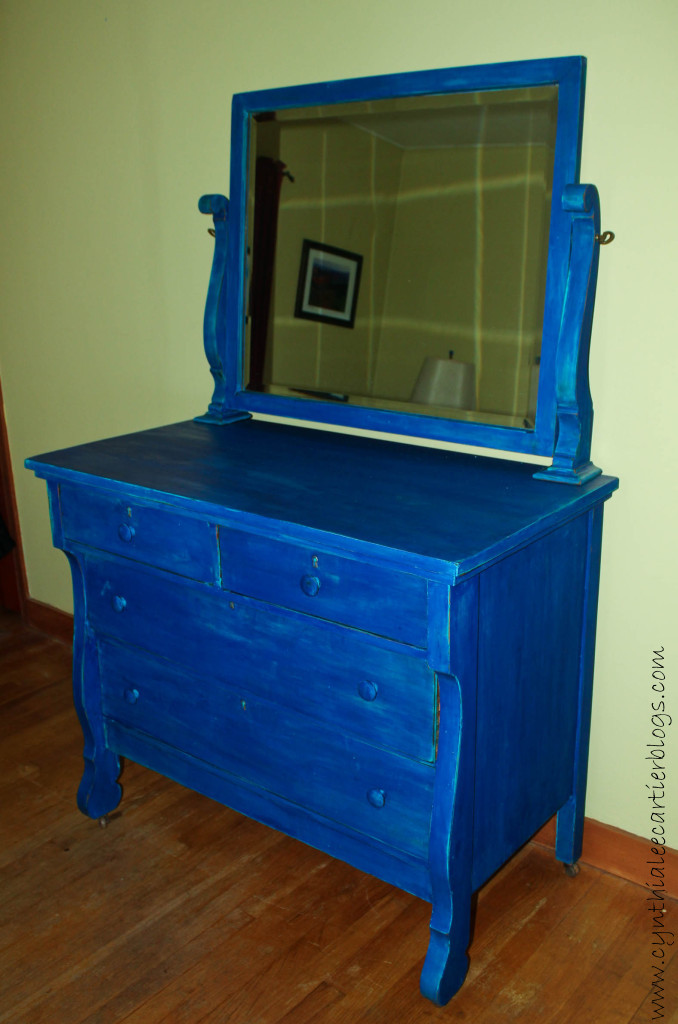 The final piece looks really great next to the light green walls in this room, which is kind of limey at times during the day. The distressing that can be seen in person doesn't show well in this picture, but it really has such a nice layering of colors.
Step-by-Step Summary:
1. Disassemble: remove mirrors, hardware/knobs etc.
2. Tape off mirror to keep paint off glass.
3. Cut out the damaged veneer and clean all spots very well.
4. Fill the damaged spots with wood fill, and sand in between fills after the putty is very dry, until all spots are completely filled, flat and smooth.
5. Sand the entire piece and clean very well.
6. Mix Cobalt paint with Ultra Bond for the base coat. Paint two coats, letting it dry well between coats.
7. Mix Ultramarine without Ultra Bond for top two coats, letting the coats dry well in between.
8. Sand entire piece with fine sandpaper on an electric palm sander, sanding the flat surfaces smooth and hitting the edges to reveal some of the base coat of Cobalt paint and the wood.
9. Clean the entire piece well and then apply coats of tung oil, letting each coat of oil soak in and steel wooling and then wiping down the piece before the next coat of oil. Steel wool the final coat and wipe the piece down.