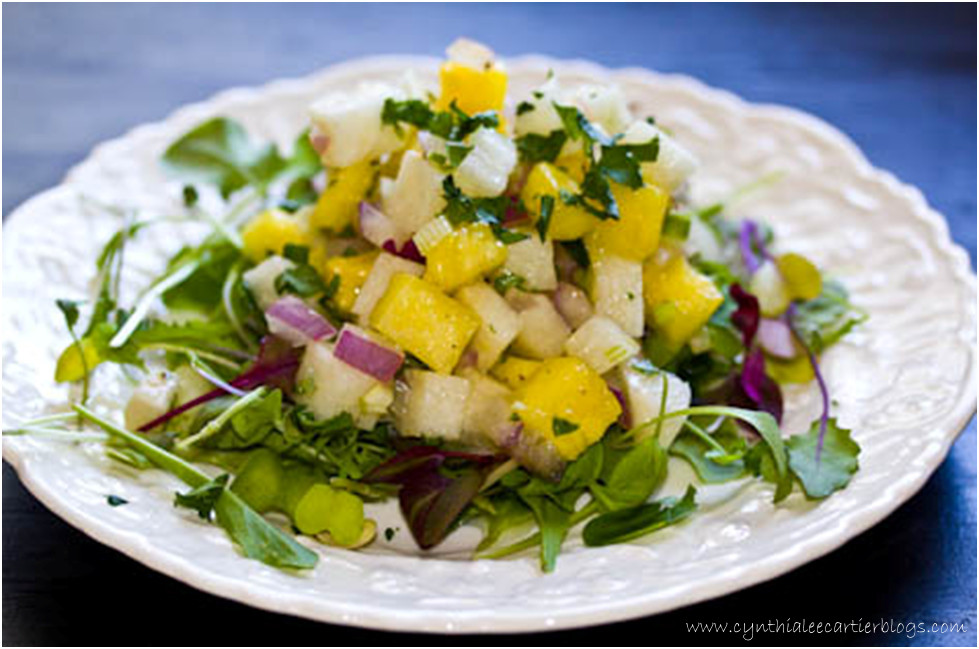 [donotprint]Jicama Recipes: This Pineapple Jicama Salad is a light, flavorful and refreshing dish for a summer lunch or a nice side dish for dinner, barbeques, or potlucks.  Jicama is low in calories and high in phyto-nutrients, fiber, and anti-oxidants, as well as vitamins and minerals such as vitamin C, folates, riboflavin, magnesium, copper, iron and manganese. This is by far one of my favorite jicama recipes. I hope it becomes one of yours too. [/donotprint]
Ingredients:
1 medium jicama, peeled and diced
1 fresh pineapple, peeled and diced
1 bunch green onions bottoms (5-7), chopped
1 small to medium red onion, chopped
4 Tbs. cilantro, chopped
Dressing:
½ cup safflower oil
4 Tbs. apple cider vinegar
2 tsp. agave syrup or other natural sweetener
1 tsp. sea salt
¼ tsp. cumin
¼ tsp. black pepper
In a large salad bowl, combine jicama, pineapple, green and red onion and cilantro.
Directions:
In a large measuring cup or bowl whisk together dressing ingredients and then pour on the salad ingredients and toss to coat well. The salt will settle at the bottom of the cup or bowl, so scrape the sides and bottom to make sure all the seasoning is mixed into the salad. Serve at room temperature or refrigerate and serve cold as a side dish, with chips or crackers, loaded into a wrap or added to a green salad; served here on a bed of organic micro-greens.