Look what set up housekeeping in my friend's Ficus tree in Arizona. This mama-to-be has a white body and brown wings. I had never seen a hummingbird nest before, and I've never met a hummingbird with Honey's coloring. I searched the net to see if I could find out what kind she is and think she may be a Leucitis, but then again, maybe not. I wish the pictures showed just how tiny this nest is. The longer view at the end of this post shows the scale a little better.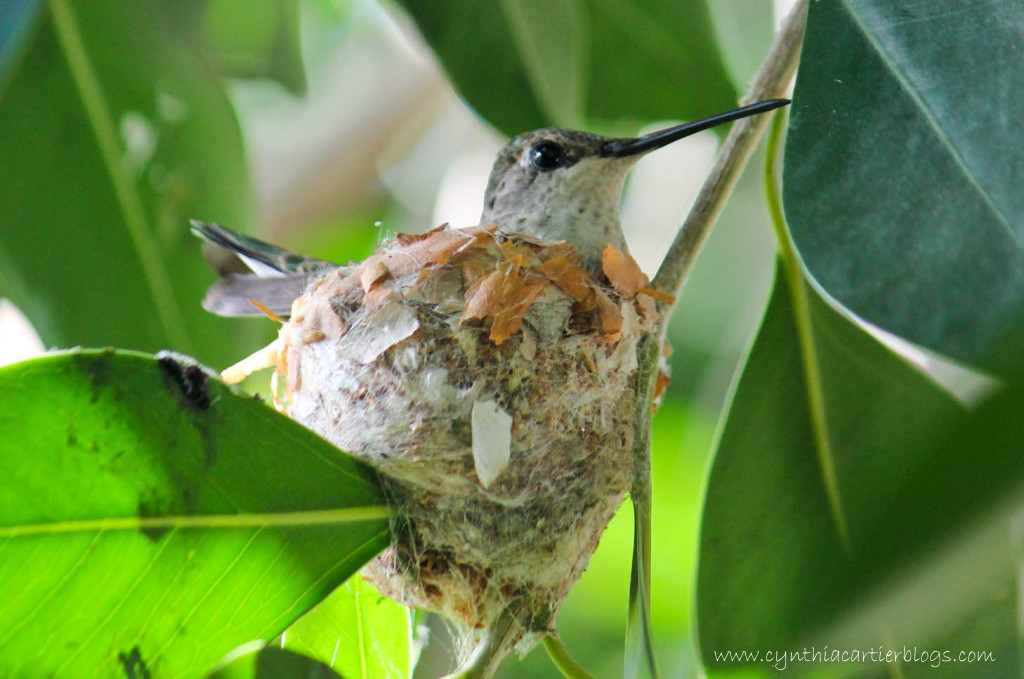 Close-up…
The tale that follows was told to me by my friend and is infused with the inference that Honey the Hummingbird's arrival into her life is part of a bigger plan, a plan that has meaning beyond just one of God's creatures looking for room at the inn.  So this is how she tells it… My friend has admittedly been slow to decorate her place that was remodeled over two years ago, but finally she set out to get some more things on the walls. Then, not even a week after she hung some ornithology (that's bird talk :-)) prints, she was out in her courtyard and heard a "thunderous buzz" as a hummingbird (Honey) flew within a foot of her, at eye level, and looked her up and down as if to say, "Hey there, I'm honey. Who are you?"
I don't know if Honey the Hummingbird was summoned by an act of interior decorating, but my friend does seem to have built a rapport with the tiny wonder. When she goes out to the courtyard, Honey will often leave her nest and buzz my friend to offer what seems like an intentional greeting.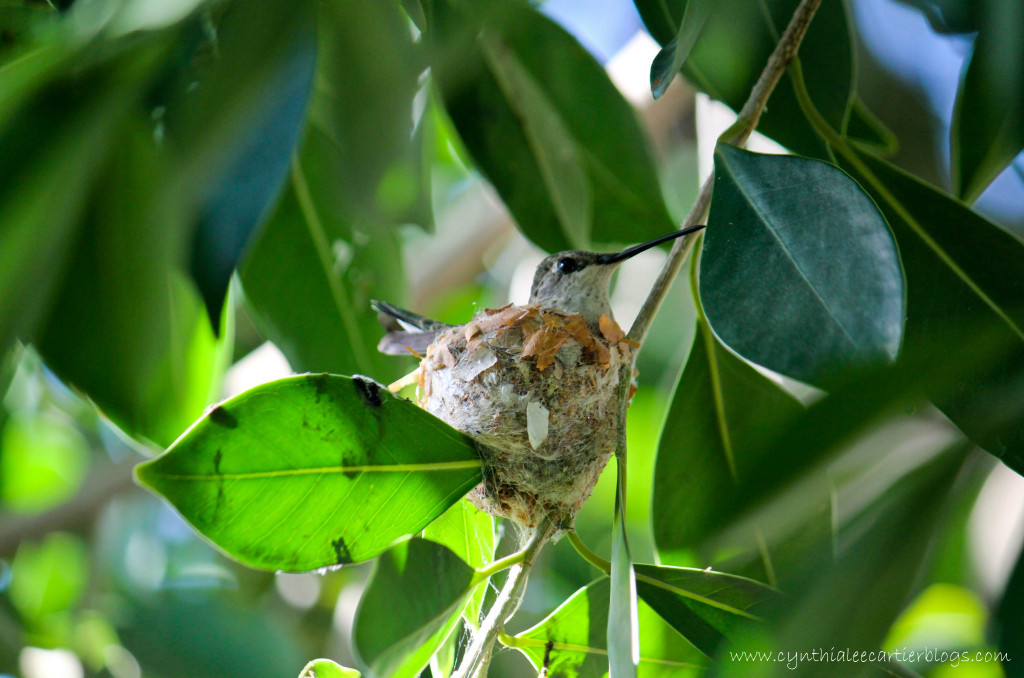 Longer Shot…
Generally the hummingbird is said to symbolize joy and playfulness. Other symbolic meanings are lightness of being, enjoyment of life, being present, and resiliency (particularly in regards to tirelessly traveling great distances).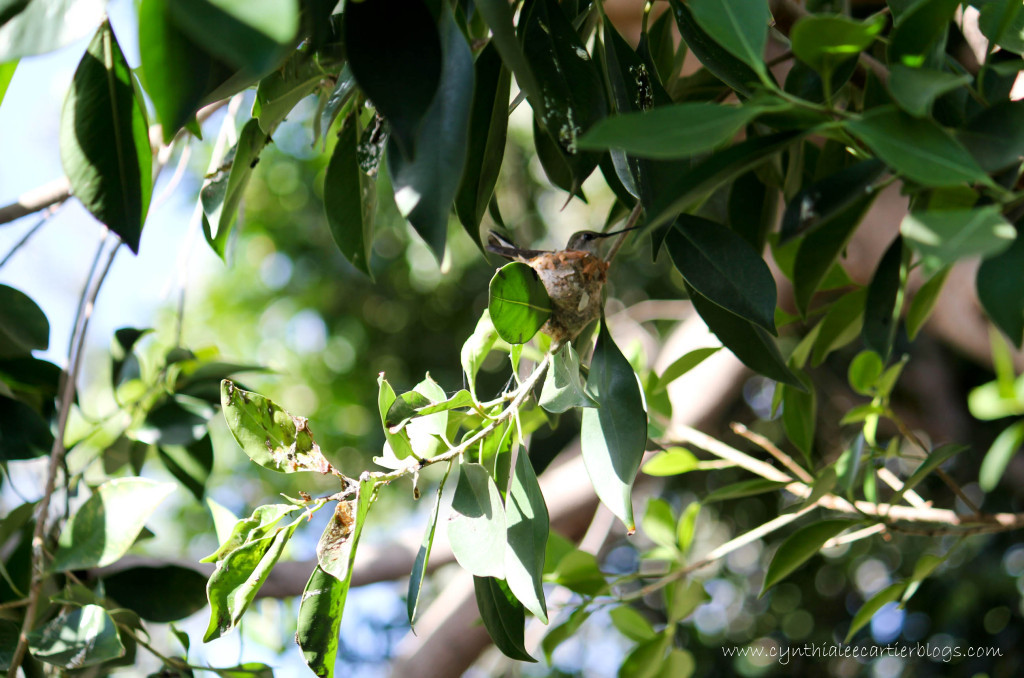 Even longer shot…
Even at a distance, just how tiny this nest and sweet mama are doesn't come through in this photo either. So imagine the nest is about the size of a ping pong ball and Honey is about the size of a hummingbird 😀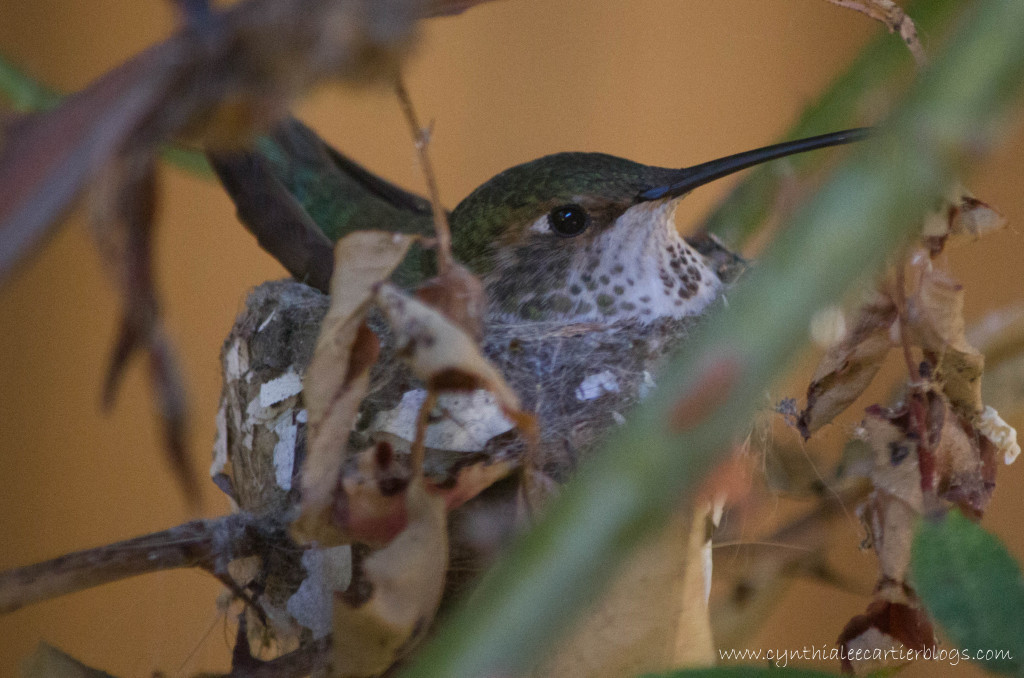 *** Update: I've lived halfway to one hundred and during that time, I've never seen a hummingbird nesting. Then, within a two week period at the end of May, 2014, I saw two. The one in Arizona that I originally wrote this post about, and two weeks later in I took pictures of this little mama-to-be nesting in my cousin's rose bush in California… Pretty special!