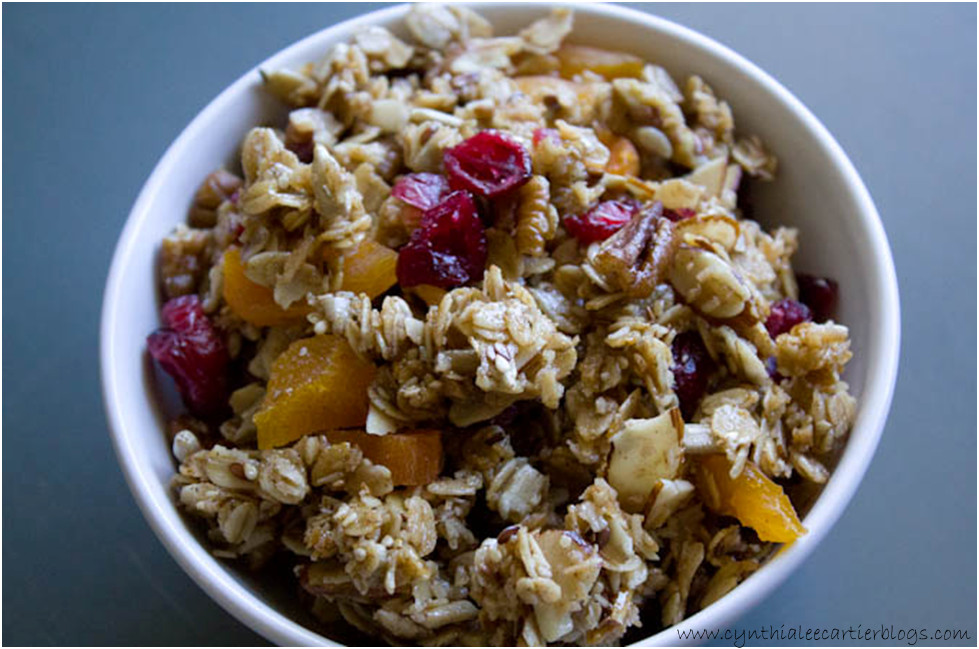 [donotprint]Granola Recipe: Fruit, Nut & Seed Granola Recipe
I've cleaned up my granola recipe that originally used butter and refined sugars, and now that I use a combination of alternative sweeteners, I like it so much better: raw honey, pure maple syrup and brown rice syrup are in this recipe. This combo makes a much lighter granola. The sweetness doesn't overpower the other ingredients. It seems new information is coming to the surface about sweeteners all the time. You can easily substitute other sweeteners if you have other options that you'd like to try.
About the sweeteners used here: I'm jazzed that you can now buy raw honey at big box stores where it's much less expensive so I feel I can use it more often. But is it as good as what can be purchased from the local honey vendor?… I hope so. You can use grade A or B maple syrup. I used grade A; it has a lighter maple and less caramel flavor and I like it better on pancakes and hot cereal, so it's usually what I have on hand. I've become a big fan of brown rice syrup, which you can buy at most natural food stores.
I buy my rolled oats, raw coconut, and some nuts and seeds from the bulk bins, and I like Trader Joe's selection of organic dried fruits and nuts. You can use raw or flaked coconut; raw coconut has less sugar and that's what I try to use. When I make granola, or any recipe for that matter, I don't usually run to the store for the exact ingredients. This recipe will give you a basic guide for making a quick and easy granola that beats anything you can buy in a box, but I don't always follow it exactly when it comes to the fruits and nuts; I use what I have on hand in the approximate proportions.
I like to eat granola with a nut milk (usually almond), coconut yogurt, or SO Delicious Cultured Coconut Milk and berries. This granola is also a great addition to cookie and muffin recipes and makes a great gift. A crispy cello bag full of homemade granola, tied up with a ribbon, is a popular gift with my peeps.
Granola Recipe: Fruit, Nut & Seed Granola Recipe[/donotprint]
Serves: makes approx. 7 cups
Ingredients:
3 ½ cups rolled oats
½ cup raw coconut
3 Tbs. flax seed
3 Tbs. sesame seeds
¼ cup sunflower seeds
¼ cup pumpkin seeds
½ cup sliced almonds
½ cup coarsely chopped pecans
2 tsp. cinnamon
1 tsp. natural sea salt
½ cup coconut oil
1/2 cup brown rice syrup
¼ cup raw honey
¼ cup pure maple syrup
2 tsp. pure vanilla
2 cups mixed dried fruit (I used apricots, dried cherries and cranberries)
Directions:
Preheat oven to 275 degrees. Line a rimmed baking sheet with aluminum foil and/or use an aluminum foil pan. Brush pan with coconut oil. If you don't want to bake the granola in aluminum, make sure whatever pan you use is well oiled.
In a large bowl, combine all the ingredients except the dried fruit. Stir well to incorporate.
Spread the mixture on the prepared baking sheet, spreading it out into an even layer. Bake for 30 minutes, stirring every ten minutes.
Remove the granola from the oven and cool completely in the pan, stirring occasionally to keep the granola from becoming a big clump. If this does happen, just break up the granola. Once the granola is cool, mix in the dried fruit. Store for up to one month in an airtight container.