Gardening has always been a matter of intuition and experiment for me. For some time, I've wondered if gardening in a window well could be successful, and now that I'm living in a home with basement windows, I'm going to experiment and find out 🙂
It seems to me that window wells would be an ideal space to garden, especially in hotter climates. Window wells get filtered sunlight and the metal lining of the well holds the heat, they're protected from the elements (wind, extreme heat, hail), they're somewhat protected from critters (if the window well has grates), and they have easy indoor access at waist height for harvesting and maintaining the plants.
I decided to start with sun-loving plants; I figure if I can grow tomato plants in a window well, I should be able to grow just about any garden vegetable. I bought six tomato plants, so that I could put two in an east-facing window, two in a south-facing window and two outside on the east side of the house, to have an inside versus outside comparison.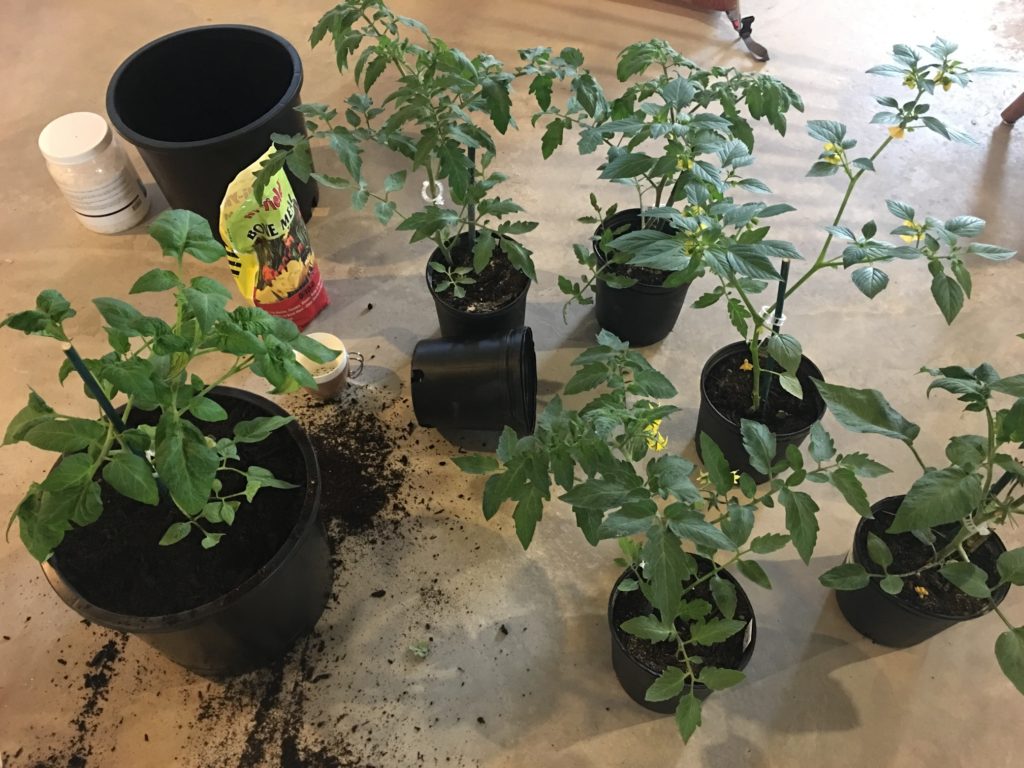 I bought one gallon organic transplants at Natural Grocers and repotted them into five gallon pots that I ordered from ZenHYDR.com. When I transplanted them I added organic potting soil, organic compost (humus & nitrogen), magnesium flakes (magnesium), and bonemeal (calcium).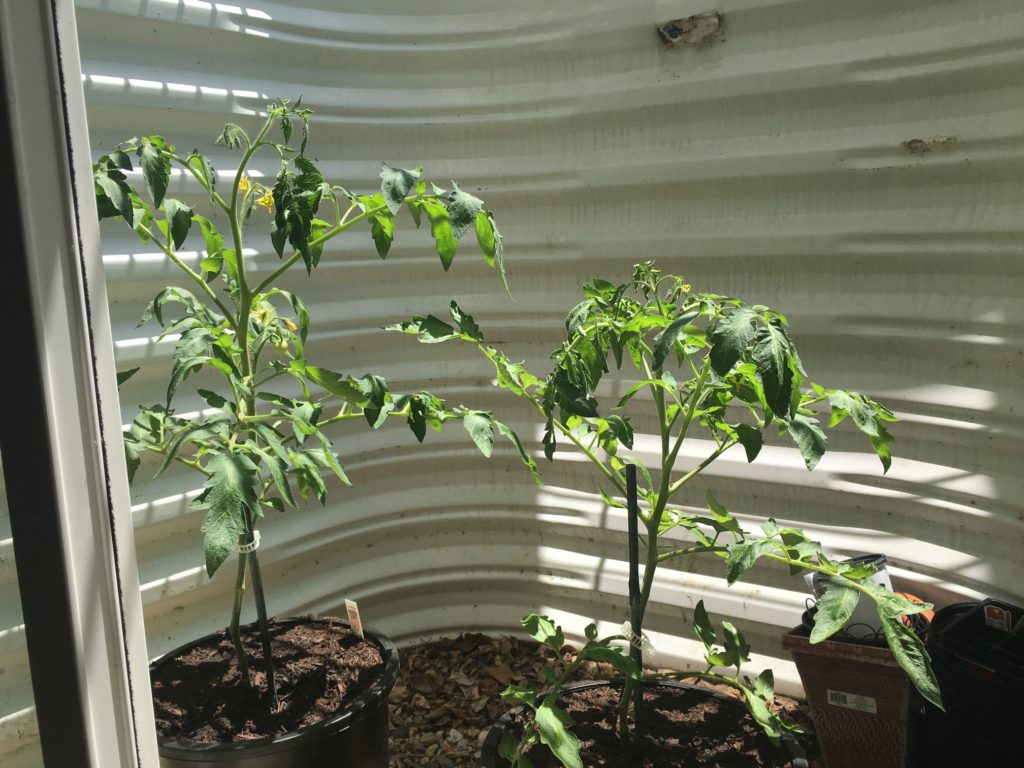 So far gardening in the window wells is going swimmingly. The plants are doing as well as the plants outside; they're setting flowers and three of them have little maters already. I'm going to prune the plants to control their size, which I like to do anyway to grow bigger tomatoes. Here's a great article at HarvestToTable.com about how to prune tomato plants.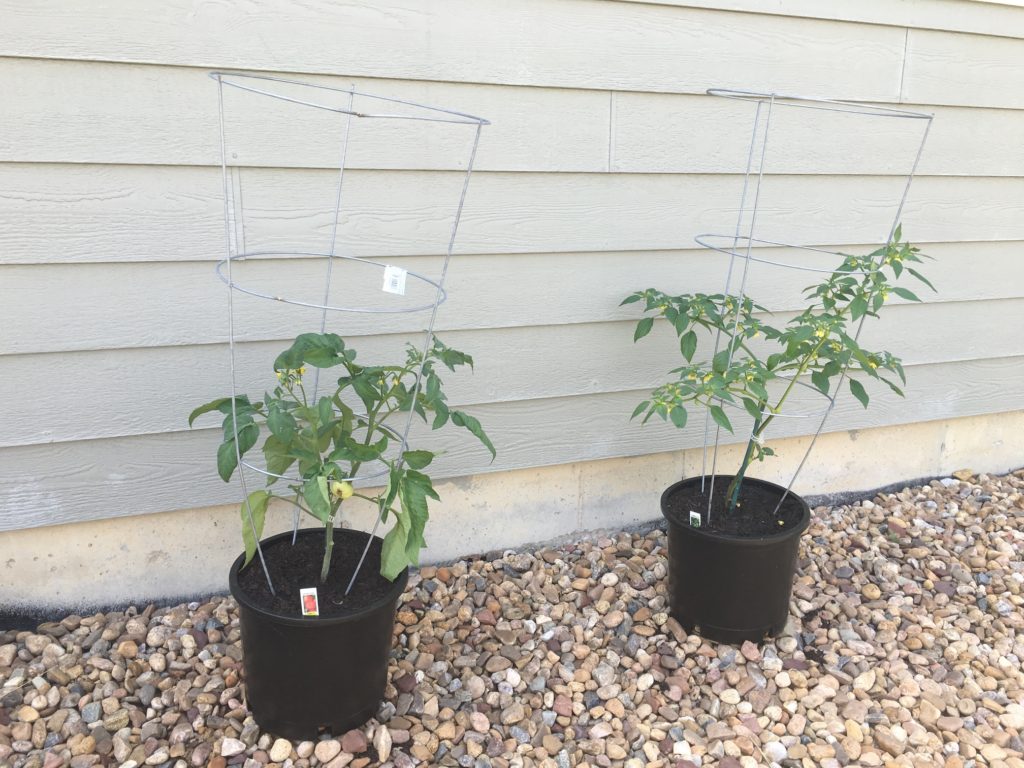 My two outside plants.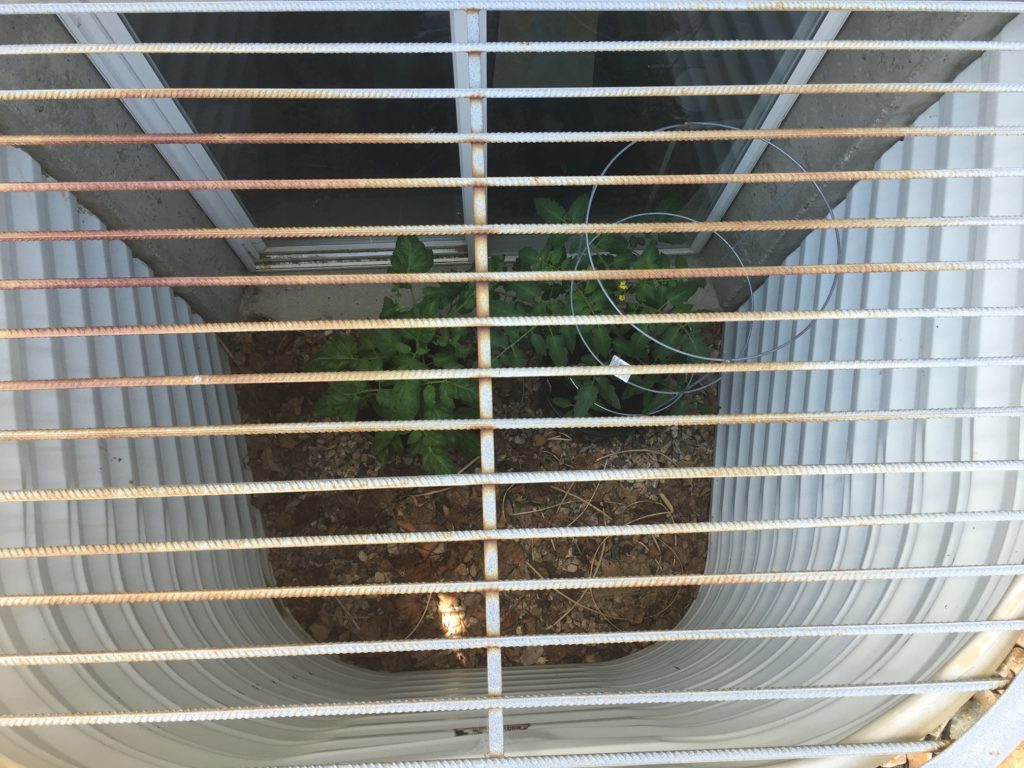 Our window wells have grates and I'm able to either water the plants from above with a sprayer attachment on the hose, or drop the hose down into the well and spray from inside though the open window.
I'd like to plant some lettuce this season, and wonder if you couldn't amend the soil in the window well and plant right in the ground. I know some people are concerned about watering next to the house. I've never had an issue with this, but I try to water conservatively and regularly check for leaks in drips systems.
I'll update the progress of this gardening experiment as the season progresses. Until then, I hope everyone is enjoying the growing season and it's bounty! 🙂