Gardening Ideas — DIY Growing Racks
This post may seem a bit off-season (smack-dab in the outdoor growing season), but it's not, and I'll tell you why. Getting transplants started at the right time is often a challenge for busy gardeners, so what better time to start preparing in order to hit the ground running in January/February/March than the summer before?
Thinking about this growing rack project now will allow you time to look for rolling shelves on sale and/or to keep an eye out for them used. I bought mine new, but I've since seen them at yard sales. The early bird gets the worm!
Heavy-duty growing racks are expensive, but I came up with a way to put them together at a fraction of the cost. These racks have lots of growing space, are adjustable as plants get bigger, and can be rolled outside for hardening off.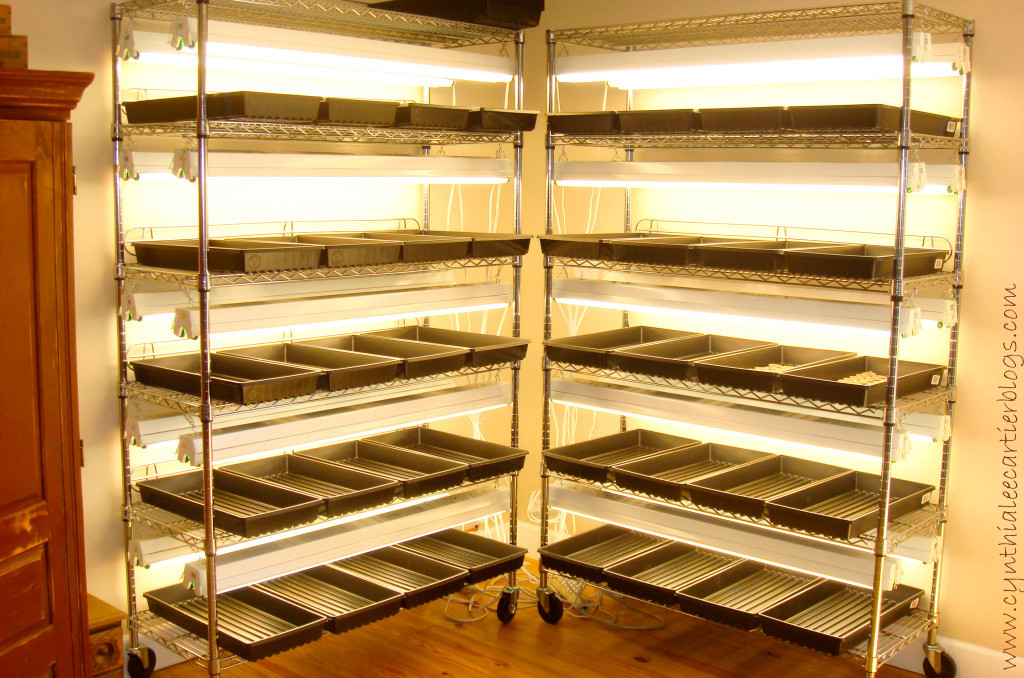 Here's what you need:
2 fluorescent lights per shelf and 1 warm and 1 cool bulb per light
What's nice to have:
indoor hose (it's much easier to water with one of these)
faucet adapter (you will probably need one of these if you use an indoor hose)
I bought my racks at Costco a few years ago for under a hundred dollars. The same quality pictured here is more expensive now, but you could use a rack that isn't as heavy-duty and I think it would work just fine.
These are pretty simple to put together. All you need is a rolling storage/baker's rack, 2 fluorescent lights to hang above each rack of plants (they usually come with chains and S hooks that you can use to hang the lights from the shelves).
I did an experiment with expensive grow light bulbs that you can buy for fluorescent lights; I used the grow lights above the plants on one of the shelves, but I didn't see any difference in the growth rate or quality of the transplants than the shelves that just had one cool and one warm bulb. Using timers to control when the lights go on and off is important so that it's consistent.
If you have really good natural light, you could use a rolling rack without any fluorescent lights, and turn the rack around every day to give your plants more even light exposure.
Artificial lights require some plant rotation as well; I keep an eye on the plants and rotate their positions so that they don't get leggy as they stretch toward the light. The ones on the ends of the shelves will do this, so rotate toward the middle.
As the plants grow, you may need to adjust the racks, especially for tomato plants if you're not planting them out early with Walls of Water. Take this into consideration when you set up your racks. If you use every shelf and have them filled to the brim, you may not have room to adjust the shelves or have room for the plants as you replant into bigger pots.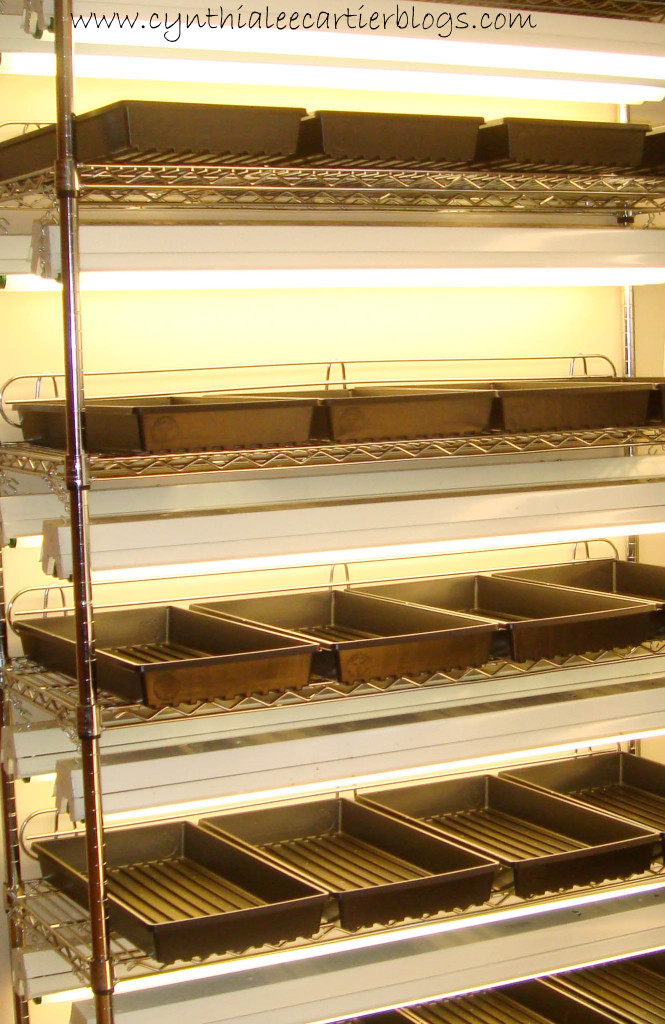 Plastic seed starting trays can be ordered online. The potted plants need to be put into something so they can be watered in place without the water draining all over the floor… sorry if I didn't need to explain that.
If you've never grown your own transplants before, here's a good article on the Texas Gardener website about growing them from seed.
I'd love to see your completed growing rack projects or another way you grow transplants, so send picks if you can.