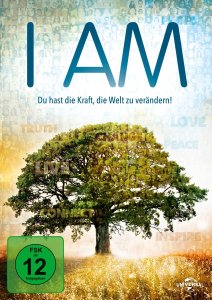 Because I think this is a great piece to watch if you want to be lifted and inspired at this time of year, I posted, tweeted, and now I'm blogging about the documentary I Am that was released in 2010. During the holidays we're all a little more openhearted, and we take the time to think about the importance and significance of love, family, and life, which is why it's a joy for some and very difficult for others.
Our need and yearning for real connection with one another is so intrinsic, and this documentary has some insights into why that may be.
I Am is an American documentary film written, directed, and narrated by Tom Shadyac, the director of Bruce Almighty; Liar, Liar and other hit comedies. It explores "the nature of humanity" and "the world's ever-growing addiction to materialism." It abounds with truth, love, and thought-provoking ideas.
This isn't a Christmas movie, but it has all the best of why we watch holiday flicks: Love… our need for it and our need to give it! I can't think of a better way to spend some family time, friend time, or just you time… it's an experience that I hope lifts you the way it did moi 🙂