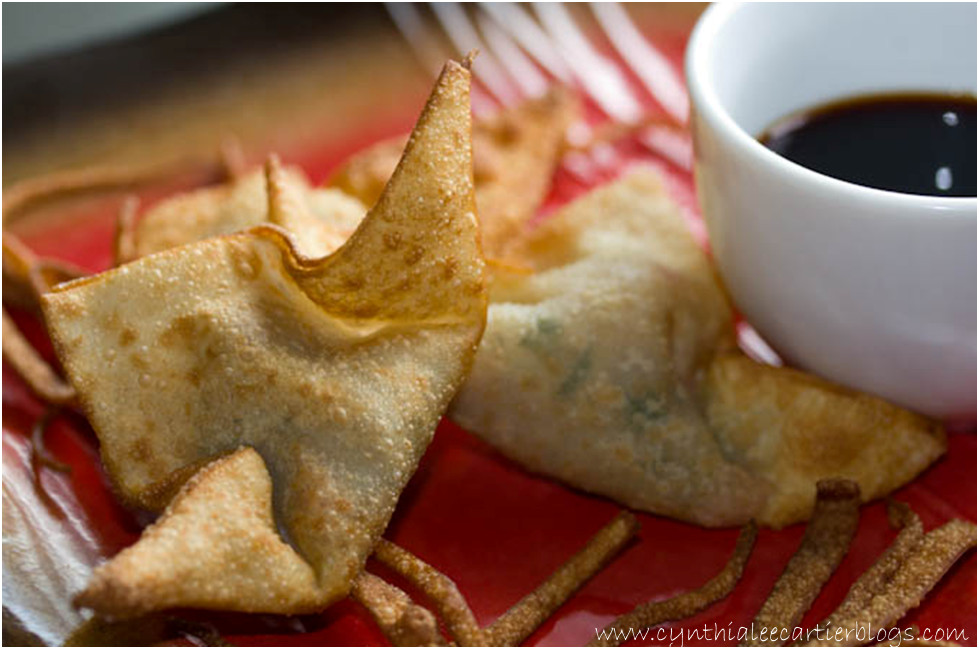 [donotprint]Eggplant Recipes — Eggplant Wontons
Eggplant Recipes —
I use this eggplant filling in the recipe for Eggplant Wraps and a Lemony Eggplant Wonton Soup.
If you're making a lot of wontons for a get-together, wontons can be made ahead and frozen. If the wontons are going to be baked or fried, you could freeze them either uncooked or cooked. The trick with freezing is having enough freezer space to arrange the wontons on a tray, not touching each other, until they're frozen, then put them in an airtight container. Otherwise, you'll have a big clump of frozen wontons when you're ready to cook or reheat them.
Eggplant Wontons [/donotprint]
Makes: 48 wontons
Ingredients:
1 medium to large eggplant, peeled or not, and then diced
1 red bell pepper finely diced
1 bunch green onions (5-7) finely chopped
4 Tbs. minced cilantro
4 tsp. sesame seeds toasted
2 tsp. sesame oil
1/2 tsp. sea salt
1/4 tsp. ground pepper
48 wontons wrappers
Oil for frying
Tamari, soy sauce and/or sweet & sour sauce for dipping
Directions:
Steam eggplant and red pepper until tender, about 8-10 minutes. Transfer to a large bowl and coarsely mash with a fork. Stir in green onions, cilantro, sesame seeds, sesame oil, salt and pepper.
Heat oil while assembling wontons (never leave oil unattended).
Assemble Wontons: Layout the number of wonton wrappers that will fit on the work surface in front of you. Keep remaining wraps covered with a damp towel or enclosed in airtight packaging or container. With a pastry brush or the tip of your finger, wet the edges of wonton wrappers with water. Place a level teaspoon of eggplant filling in center of each wrapper. Fan Fold or Corner Fold filled wrappers. Press edges to seal. Continue until all wrappers are filled.
Test the oil with a piece of a wonton wrapper or the corner of one of the assembled wontons. Wrapper should be lightly brown within 30 seconds. Adding a few at a time (so that they can float freely without touching), fry wontons in hot oil. Remove the wontons when they're lightly golden brown. Drain them on a paper towel-lined tray. Repeat this process until all wontons are fried.
Serve hot with dipping sauce.