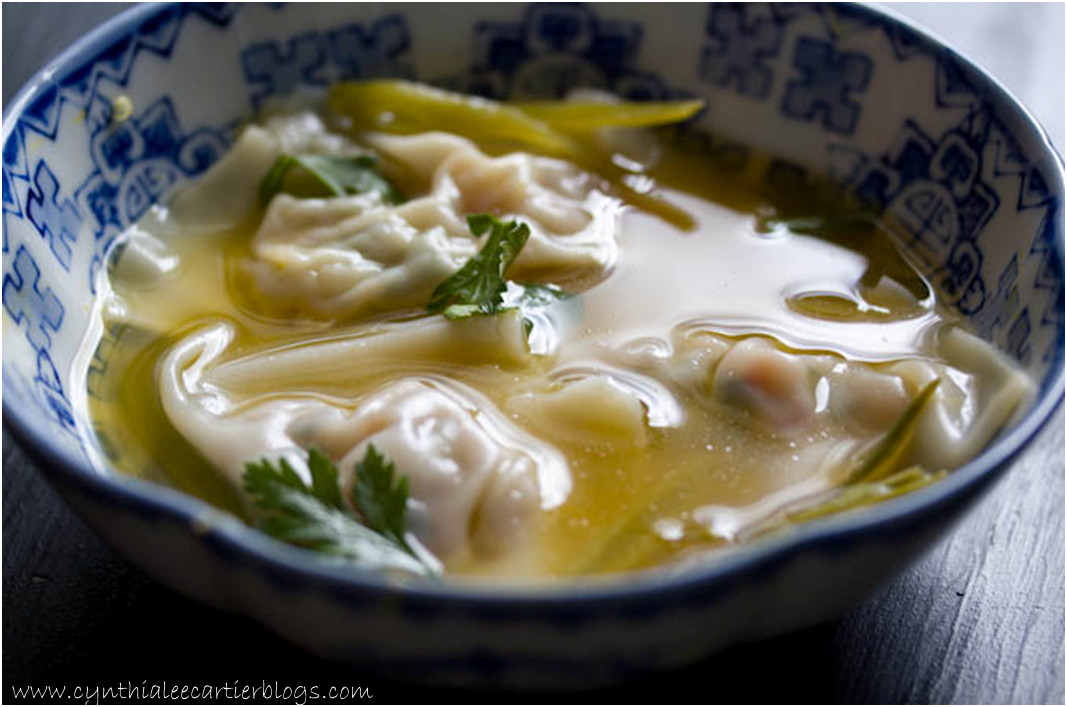 [donotprint]Eggplant Recipes: Lemony Eggplant Wonton Soup
This recipe for Lemony Eggplant Wonton Soup is a light and tasty addition to an Asian dinner menu or a meal served with a side salad. Wontons are really easy to make if you follow a few simple steps in the right order. The important thing is to assemble the wontons quickly and cook them immediately so that the wrapper dough doesn't get soggy.  See this post on How-To Fold Wontons.
This recipe uses the same filling that I use in Eggplant Wraps and Eggplant Wonton Appetizers.
Lemony Eggplant Wonton Soup [/donotprint]
Serves: 4
Ingredients:
Wontons:
1 cup eggplant, peeled or not and then diced
1/2 cup red bell pepper, finely diced
4 green onions, finely chopped
2 Tbs. minced cilantro
2 tsp. sesame seeds, toasted
1 tsp. sesame oil
1/8 tsp. ground ginger
1/4 tsp. sea salt
1/8 tsp. ground pepper
12 wonton wrappers
Broth:
4 cups vegetable broth
½ cup water
2 Tbs. lemon juice
zest from one lemon
1 tsp. jalapeno pepper, seeded and minced
1 cup julienned snow peas
Garnish:
cilantro leaves
Directions:
Steam eggplant and red pepper until tender, about 8-10 minutes. Transfer to a large bowl and coarsely mash with a fork. Stir in remaining wonton ingredients, except wonton wrappers. Set aside.
In a large pot, bring vegetable broth, water, juice, lemon zest and minced jalapeno to a boil, then turn off heat and leave on stove.
Begin heating a medium-to-large pot of water to cook the wontons once they're assembled.

Assemble Wontons: Layout the 12 wonton wrappers assembly-line style. With a pastry brush or the tip of your finger, wet the edges of the wonton wrappers with water. Place a level teaspoon of eggplant filling in the center of each wrapper. Fan Fold or Corner Fold filled wrappers. Press edges to seal well. Continue until all wrappers are filled.
Here's a step-by-step on How to Fold Wontons.
Last Step:
Return broth to high heat. When both the water and the broth pots are boiling, add pea pods to the broth and gently add wontons to the water. Cook both pots for 3 minutes. Immediately remove wontons from water with slotted spoon and place three wontons in each of 4 bowls. Ladle broth over wontons. Garnish with cilantro leaves.