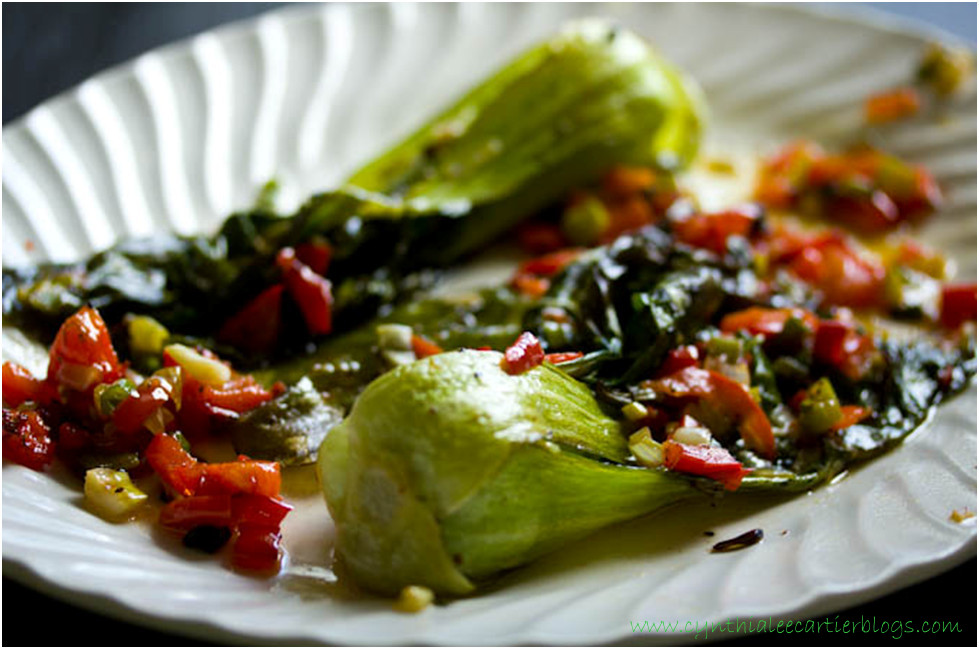 [donotprint] Bok Choy Recipes —
Roasted Baby Bok Choy makes a beautiful side dish. You can leave the bok choy whole or cut them in halves or quarters before you cook them. Cutting after cooking is a little messy. If you can't find baby bok choy, use larger heads and chop the bok choy, toss with the olive oil, red peppers, green onions, salt and ground pepper, then bake.
Bok Choy is a low calorie, low carb and high fiber food that contains vitamin A, vitamin C, beta-carotene, potassium, calcium and vitamin B-6. It's also an excellent source of folic acid, which helps prevent heart disease, birth defects and reduces the risk of developing high-blood pressure and cancer. In addition to reducing the risk of cancer and other diseases, bok choy aids in digestion and the beta-carotene reduces the risk of cataracts.
Other ways to use Bok Choy: Cut the green leaves off the stalk and use them like spinach, chard or romaine, either cooked or raw. The stalks can be sliced or chopped and used like celery. Whenever I make a stir fry, I like to chop both the leaves and the stalks and toss them in the mix.
Roasted Baby Bok Choy[/donotprint]
Serves: 2-4
Ingredients:
2 baby bok choy (or larger heads cut in half)
2 Tbs. extra-virgin olive oil
½ cup red pepper, well chopped
5 green onions, chopped
¼ tsp. sea salt
¼ tsp. coarse ground pepper
8″ x 10″ glass baking pan, lightly brushed with extra-virgin olive oil (I prefer glass, but use what you have)
Directions:
Preheat oven to 400 degrees.
Wash and dry bok choy. Measure olive oil into a small bowl. With a pastry or basting brush, lightly brush olive oil on the bok choy's outer leaves and the inside leaves that you can access. Place in the prepared baking pan. Sprinkle red peppers, onions, salt and ground pepper over top of the bok choy. Add any remaining olive oil. Toss well in the pan. Bake in a 400 degree oven for 30 minutes, until tender.