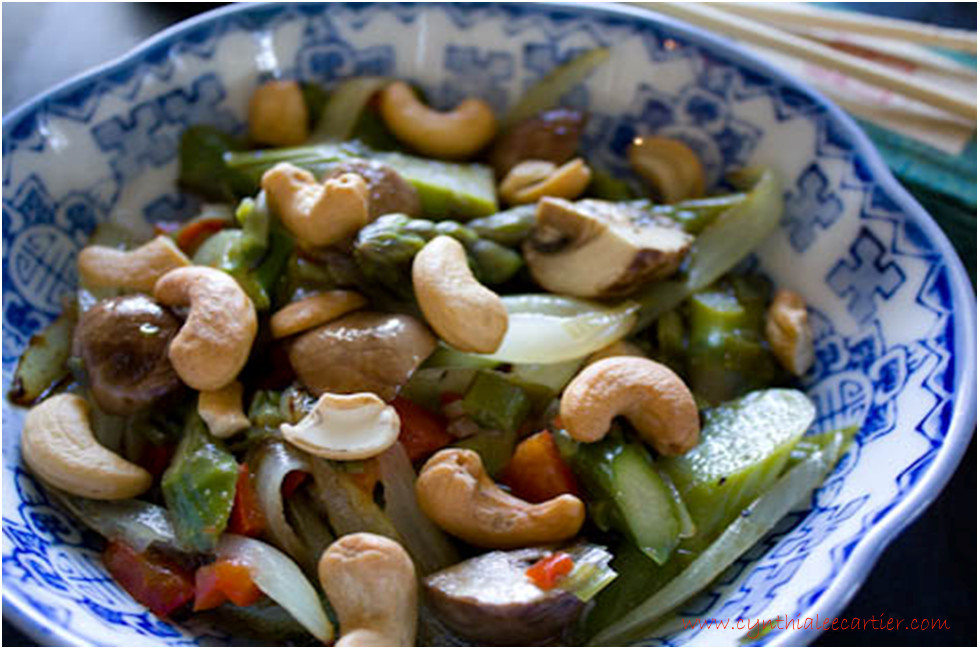 [donotprint]Asparagus Recipes — This Asian inspired dish using asparagus is a quick and easy meal that can be served with rice or quinoa. I like to eat asparagus raw, steamed and roasted, but this is definitely one of my favorite asparagus recipes.
Asparagus Recipes: [/donotprint]
Servings: Makes 4 side-dish servings or 2 large rice bowl servings.
Ingredients:
1 lb. fresh asparagus, trimmed and sliced at an angle into bite-size pieces
8 oz mushrooms, cleaned, trimmed (the ends) and quartered
1 medium yellow onion, cut into thin wedges
1 bunch green onions, chopped
1 small to medium sweet red pepper, chopped
4 Tbsp. cashews
Sauce:
2 cups vegetable broth
2 Tbsp. dry sherry (optional)
1/8 tsp. pepper
1/8 tsp. ground ginger
Directions:
Steam asparagus in a covered steaming basket for two minutes (If asparagus is very thin, skip this 2 minutes of steaming and add all the veggies to the steamer at the same time). Add mushrooms, yellow and green onions and red peppers to steaming basket with asparagus, cover and steam for an additional 5 minutes, until asparagus is crisp-tender. Immediately remove vegetables and place in a bowl.
While asparagus is steaming: In a large skillet, stir broth, sherry, pepper and ginger. Heat and boil for 10 minutes, stirring occasionally. Mixture will reduce and thicken. Add cashews and  vegetables to the sauce and gently toss to coat. Serve warm on its own or over cooked quinoa, brown rice or other cooked grain.