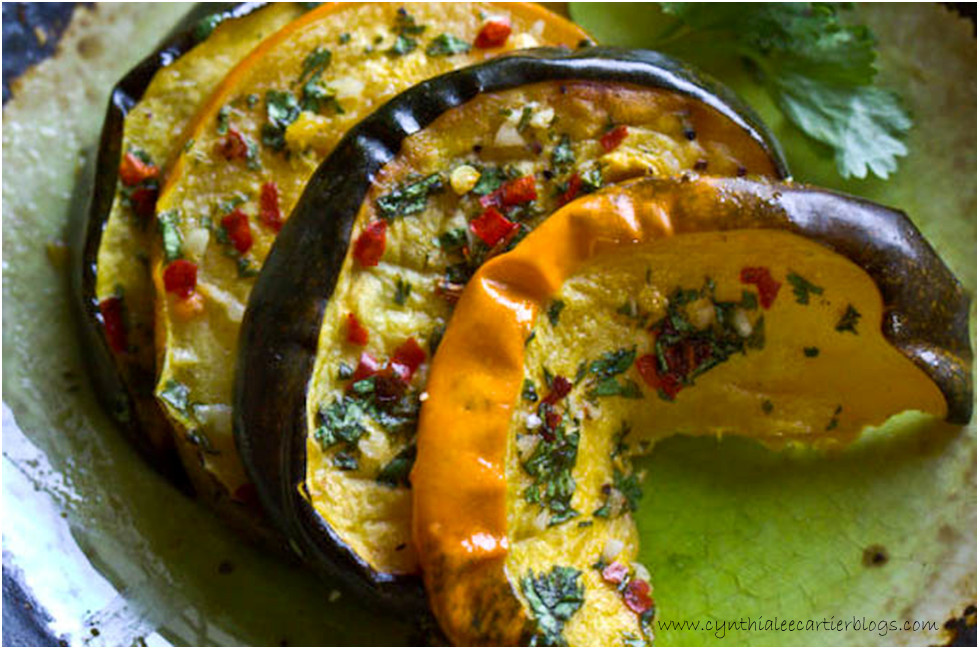 Acorn Squash Recipes — Sweet & Spicy Acorn Squash
Cooking acorn squash is easy and this acorn squash recipe makes a great side dish or a pretty addition to a buffet or appetizer tray. The skin is so tender when cooked, it can be eaten or just eat the flesh and discard the skin.
Serves: 4 side dish servings, or 6-8 appetizers
Ingredients:
1 medium acorn squash, washed, de-seeded and sliced
¼ tsp. black pepper
¼ tsp. salt
1 Tbsp. extra-virgin olive oil
Vinaigrette:
2 T. olive oil
1 Tbsp. lime juice
1 tsp. crushed red pepper flakes
1 Tbsp. fresh chopped cilantro
1 clove of garlic, minced
Directions:
Slice squash lengthwise into ¾ inch pieces (link to cutting Acorn Squash). Toss with black pepper, ¼ teaspoon of the salt and 1 Tablespoon of the olive oil. Place on a shallow baking dish and bake at 450 for 20-30 minutes.
While squash is baking, make vinaigrette (instructions below). Remove squash when underside is slightly brown and arrange on serving platter. Drizzle with vinaigrette and serve.
Vinaigrette Instructions:
Mash minced garlic into a paste, then combine with remaining ¼ teaspoon of salt. Whisk in lime juice, crushed red pepper, cilantro and remaining 2 Tablespoons of olive oil.