Acorn Squash Recipes: Mushroom & Barley Stuffed Acorn Squash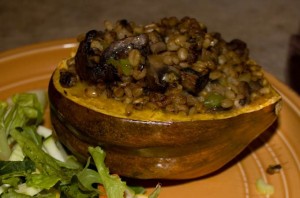 This recipe for Mushroom & Barley Stuffed Acorn Squash is easy, delicious and looks pretty impressive on the plate. Unlike a stuffed squash recipe with another grain like brown rice, I don't bake the barley stuffing in the squash because it dries it out and makes the already chewy barley even chewier. I like to serve this squash recipe with a green salad and whole grain rolls or bread.
Serves: 4
Ingredients:
2 acorn squash
extra-virgin olive oil
sea salt & ground pepper
Stuffing Ingredients:
1 tsp. extra-virgin olive oil
1 bunch green onions, 5-7, chopped
½ cup yellow onion, chopped
1 large or 2 medium cloves of garlic, minced
2 cups (about 3 ounces) mushrooms, cleaned and sliced
4 cups vegetable broth
1 cup water
½ tsp. sea salt
¼ tsp. ground pepper
1 bay leaf
1 tsp. fresh thyme, chopped (or ½ tsp. dried)
1 tsp. fresh oregano, chopped (or ¼ tsp. dried)
¼ tsp. turmeric
1 cup hulled barley
Instructions:
Preheat oven to 400 degrees.
For tips on cutting and cooking acorn squash
Cut acorn squash in half and brush the inside flesh with olive oil or broth and sprinkle with salt and pepper. Place in pan and bake for 1 hour.
While squash is cooking: Heat olive oil in a large saucepan with a lid (or use a large pot with a lid) over medium flame. Add green and yellow onion, garlic and mushrooms; cook for about 5 minutes. Add vegetable broth and water and bring to a boil. Reduce heat to low and stir in salt, pepper, bay leaf, thyme, oregano, turmeric and the barley. Cover with lid and simmer for 30-45 minutes or until all liquid has been absorbed and barley is tender (barley will still be somewhat chewy). Keep in mind that cooking time is affected by altitude and cooking heat. Remove bay leaf.
When squash is done, place on a serving platter and divide barley stuffing between the four acorn squash halves. Serve warm.