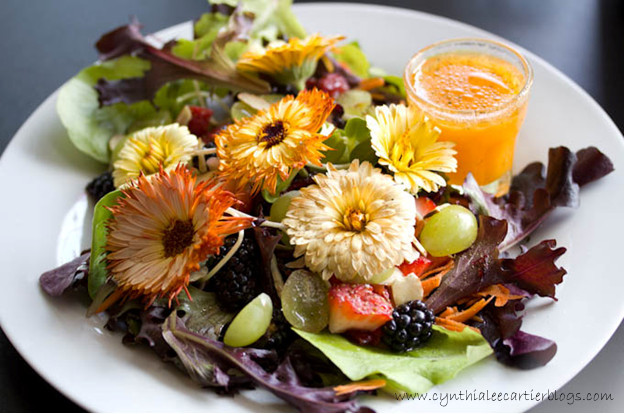 24 Carrots Review — (Remember… staff, locations, operating hours, menus, prices, can change over time, so call ahead and I wish you good eatin').Recommendation Written 4/2011:
You're not looking at a centerpiece. Nope, it's the salad I ate at 24 Carrots in Chandler, AZ – fresh local greens, berries, grapes, calendula flowers and more with an orange dressing that was so good. If you're looking for a vegetarian restaurant in Phoenix that's very vegan-friendly, this is the place. But expect the unexpected because Sasha, the owner, will tell you that the menu is an ever-changing work in progress. She uses fresh local produce and therefore what's in season, so it's really not like eating at a restaurant when you go into 24 Carrots, it's more like walking into Sasha's kitchen. Not only will you get to eat dishes that she and her staff are creating on the fly, Sasha will treat you like a welcome guest in her home. Her exuberance about healthy food and cooking is infectious.
Every dish I've had at 24 Carrots has been fresh, unique and flavorful. In addition to this calendula salad, the raw radish bread and the vegan gnochhi are standouts for me. The radish bread is cut very thin and has such an unexpected texture and great flavor…and the gnocchi – Wow! To me it was actually more like little dumplings, the lightest most delicate dumplings I've ever tasted.
Now, don't go into 24 Carrots with your hopes set on dumplings or anything else. Keep in mind what I said about it being like eating in someone's kitchen. Did your mom serve the same thing for dinner every night? If she did, my condolences; if she didn't, you get my drift. Eating at 24 Carrots is what I believe will be the new trend in eating at healthy haunts that use local, seasonal food. The dishes will be fresh, creative and probably not what you ordered last week.
Drink Pure, Eat Pure, Live Pure is one of the mottos of 24 Carrots, which started as a juice bar in May of 2008. Listening to her customers share their desire for a healthy, fresh and tasty restaurant, 8 months ago Sasha began serving food, and I'm so glad she did. Check out the 24 Carrots menu to get an idea of the offerings, but remember how Sasha rolls and enter with a flexible and adventurous spirit. I doubt you'll be disappointed.
Hours of Operation: Monday – Friday: 8:00am to 6:00pm, Saturday: 8:00am to 5:00pm, Sunday: closed.
Location: 1701 E Guadalupe Rd, Tempe, AZ 85283
Phone: (480) 753-4411